Here's my Troy Bilt Rototiller Review video of the new vertical tine Bronco Axis Tiller. All the rototillers I have used have always been horizontal tine machines that break your back. Watch how this machine goes through sod to make a new garden bed.
FYI, GardenFork was provided this tiller, but my Troy Bilt rototiller review is my own opinion, I don't say yes to many companies.
What is the Bronco Axis vertical tine tiller? Its pretty amazing. The tines are similar to a dual blade food processor that cuts through sod and soil without bucking like most tillers do.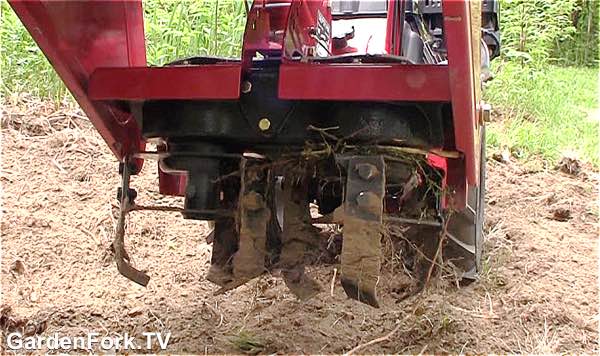 I used this at a friend's house, he wanted to convert part of his lawn into a vegetable bed. We fired up the Bronco Axis and it churned through the grass quite well. I was able to steer the tiller with one or two hands, and it never jumped up and out of the path we were cutting.
It has a hood that sits over the tines, so the dirt is not flying, and any rocks the rototiller kicks up stay in the dirt.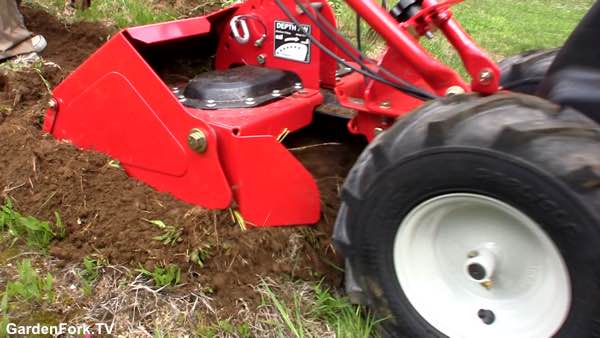 One issue is the tiller stalls on rocks about 3-4" in diameter. This happened to us a few times. The rock can get stuck in the tines, we used a long chisel or piece of rebar and hammer to drive it out.
The wheels are powered and pull the tiller along nicely. It has only one speed, slow. But for the most part, that is good. I found I could push the tiller across the yard faster than using the powered wheels, then fire it up to start tilling. Also, this tiller does not require you to be the ballast, keeping the machine in line and digging into the soil like horizontal tillers do. Much easier on your back muscles that way.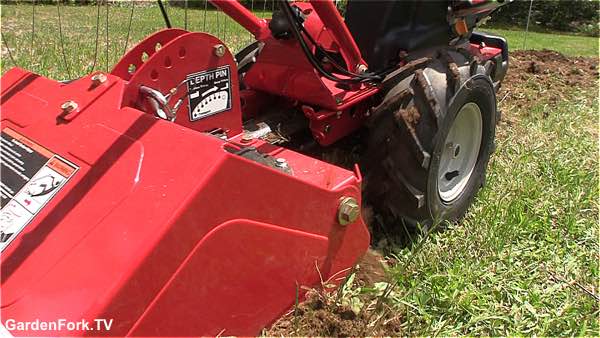 The tines are powered at all times, so if you are driving the machine across your yard, the tines are rotating. The rear wheels, which are tucked under the rear hood, hold the tines up off the lawn, but it be good if you could turn off the tines when driving it to the job site.
This tiller is completely different than any tiller i have tilled with, its quite easy to use, and doesn't destroy your back in the process.
Teresa of Seasonal Wisdom also checked out this tiller on her site.
You can find more info on the Bronco Axis on the Troy Bilt site here.