Try as I might, I could not unclog a toilet, the project transformed into installing a new toilet. What fun. Will and I talk about the new power assist toilets and then a deep dive into wifi mesh networks vs access point routers.
If you want to unclog your own toilets, do not cheap out on a toilet auger, buy a good one. Here's a mid-range auger on Amazon.
After my talk with Will about mesh networks, I reviewed the available models and picked up this Linksys mesh system, it has good reviews.
More: Toilet Repair how to replace a broken toilet flange
Listen to more toilet talk: Thoughts On Toilets & Yellow Jackets- GF Radio
Eric: Thanks for downloading the show. This is GardenFork Radio. This is me. My name is Eric. It's a Amy eclectic DIY show. It's me and my friends talking about what we think are interesting things. Today we are going to talk with my friend will from the weekend homestead about toilets and Wi-Fi routers. So very exciting. Welcome, sir. How you doing, buddy? Do you hear the Labradors playing in the background?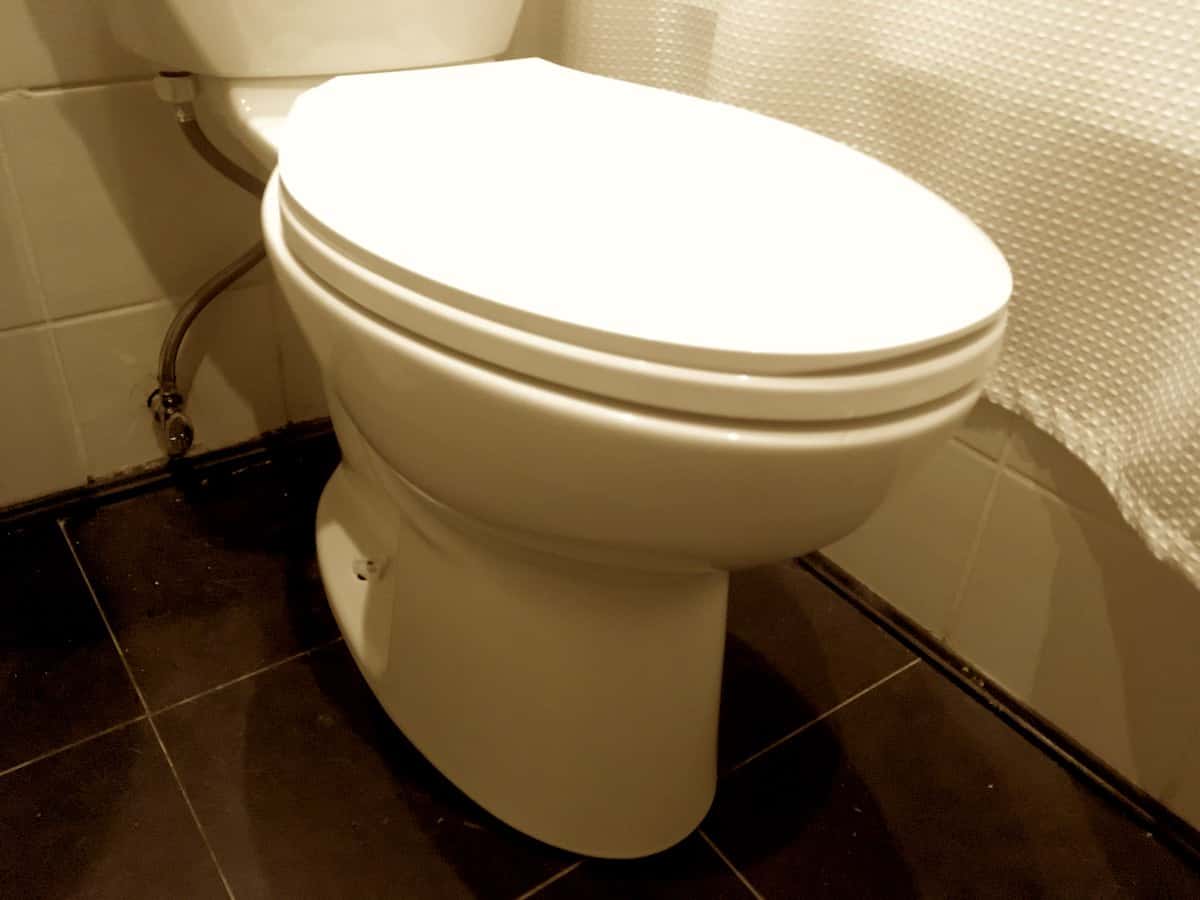 Will: I was like, wow, that's a interesting ensemble you have with you today.
Eric: So this is very pandemic recording. My my wife is on a very important zoom call presentation and our chairs are not very far from each other in the office. So I'm relegated to the kitchen to record the show. And I have my ancient USB headset from the beginnings of GardenFork Radio. So if the show sounds a little tinny on my end, that's, that's why.
Will: I think you sound awesome and it'll be great.
Eric: Well, and I, during the week have a little back channel, text messaging thing going on, and I was dealing with a clogged toilet that I've never the most clogged toilet ever, and then will runs a resort in Northwest Wisconsin, so that involves people and people have to use the toilet. So we have a lot to talk about with toilets today,
Will: When you own 14 toilets, you get pretty good at them after a while.
Eric: So I my dilemma was there. The toilet, we have a, it's a low flow, compact toilet. It has a it's a 10 inch rough-in rather than a 12 inch rough-in toilet, which means the flange where it comes up through the floor is closer to the wall than usual. And it clogs every once in a while, and this time it clogged and I used the plunger and that didn't work. And then I used my toilet snake, which is a long pipe with like a J hook on the bottom. And you turn a handle above and a springy auger goes through. I could get the auger through, but it still wouldn't. It would barely flush. And I got to the point where I was like, it's cheaper for me just to go buy a new toilet. So, but we can talk later about my theories about it, but those are, that was my big dilemma. What w what's your most recent one that we can actually talk about?
Will: Well, the thing that I figured out was when you have as many toilets as we have on the property, because all the cabins have toilets and the shower house has multiple toilets, the bar, the restaurant, all these different places. When we first bought the place, we had standard toilets in all of the locations, and I'm like, we're constantly dealing with clogs or issues, or somebody does something kind of silly and tries to flush something that they shouldn't like Rob broccoli down the toilet. And then it gets stuck. You know, not saying that that happened, but it did, you know, and so we kind of went through this whole process of, okay, how are we going to solve this? And I did a bunch of research and that's when I came across these high flow pressurized toilets, which aren't like the toilets you'd see at a gas station where, you know, they're, you know, industrial looking, these look like regular toilets or tanks, but they have a cartridge inside of them that make them pressurized. So we gave it a try on a couple of the cabins and my service calls went down by 75%. So immediately we switched gears and switched out all of the toilets to these types of toilets.
Eric: Wow. See, I'm very curious about this because I actually, when I went to go replace my toilet, I went to the home improvement store and they had some of these cartridge toilets. And my concern was our well has some sediment in it. And despite me using a sediment filter, for some reason, some sediments still gets into the system. And I thought one of these pressure cartridge things probably has tiny holes and moving parts and the sediment might clog that and break it. So I went with a traditional flush toilet and it works quite fine, but I was very intrigued by the cartridge. It looks like a little black plastic tank within the ceramic tank, right?
Will: Yeah. It sits in the back behind the, the inside the tank area and you're right. It has a regular flow end point and there's a small filter or screen that goes into the cartridge. And then the cartridge space itself is actually relatively large. It's essentially a compartment that as the water fills up, that cartridge, there's compressed air inside of it that gets pressurized and then it stops. And when you flush the toilet, it's basically a, a flush assist it's called or a power assist that air helps push the water out of the toilet. Now there's two good things about that. One is it gives a lot more pressure to push any material out of the toilet at a higher speed. But then the second item is it actually uses less water because of the pressurized nature of it. It takes less water to push whatever materials out. So we went from toilets that are flushing it 1.9 and gallons to toilets that are flushing at 0.75, or, you know, one gallon per flush, which ultimately controlled our water usage on our septic system.
Eric: Is there like a bladder inside the pressure tank, like a, like a well water pressure tank in my basement has like a big rubbery balloon that the water pushes against. And then the pressure in that bladder presses the water back out?
Will: Yes, that's exactly how it works.
Will: If you're familiar with how pressure tanks work for toilets or for Wells and things like that, or even an air compressor, you know, just pressurized air behind the water, pushes the water faster through the same normal mechanisms that would be inside of a toilet. So let's say your water in your house is at 40 pounds of pressure. I can't remember what this runs out. If it's 65 or 70 or something along those lines, I'd have to look it up. But ultimately that extra pressure means less water and more force. And when, I mean, it's kind of funny because when people flush the toilet, it looks like a regular toilet, but then when you flush it, it sounds a little bit like an industrial toilet. And I've had some people make comments that when they flush the toilet for the first time, it scared them. So, you know, they're like, Whoa, this thing, you know, if you're sitting on it and you flush the toilet, it'll pull your pants right off.
Eric: So that was another concern of mine was just how loud it was. Cause I'm like, you know, if you're you get up at night, you don't want to wake up the whole family. Like, Oh yeah, Eric just use the toilet. And it's 3:00 AM. You know,
Will: Say that that is one downfall of this style. Toilet is there's no discreteness with regards to flushing. It, it it'll let you know that you're flushing it. And pretty much if the bathroom door is closed and you're in the house, you can kind of hear the sound. It's not like an industrial commercial one. You'd see, like in a restaurant or in a, you know, a place where like, you know, the one in the gas station where it's just ridiculously loud. It's not that bad, but it is probably twice as loud as your standard toilet flush.
Eric: Interesting. So I we, I talked at the beginning of the show about the rough-in size of toilets and usually the toilet, the, the pipe that comes up from your septic system, sewer system into the floor of the bathroom, the center of that is supposed to be usually 12 inches off the wall. So you have, what's called a 12 inch rough-in toilet, but I guess in older homes, and I've run into this in Brooklyn as well. There are, the flange comes up a lot closer to the wall, and then you use a 10 inch rough-in. And the toilet I had with it was a 10 inch rough-in, but I realized I didn't need, I think I bought it by accident because I have a T the flange is 12 inches off the wall. And I think at the time I was like, well, I bought this one it's going on.
Eric: But when I had both the clog, the toilet and the brand new toilet, which was $89, by the way, and it seems to be working just fine. On the floor side by side, I noticed at the bottom of the ball where the material that's in the bowl is flushed out. It basically goes through a series of bands that goes, it goes up and then down to create a, essentially a water seal to keep the sewer gases from flowing up through your toilet. Right? Correct. So the backend of a 10 inch rough-in toilet, which is a more base that flushing pipe or tube, the bends are at much more tighter angles. And I think that's what makes them more susceptible to clogging yeah. The,
Will: Well, it doesn't get the same momentum. So you have a longer runway in a toilet. That's 12 inches off the wall versus, you know, the 10 inch. So that's, that's where you're seeing the difference there. I think one of the things that I've seen in some of the 10 inch toilets, and even some of the specialty toilets, a lot of companies are going towards this power flush because even if they have to make those tighter bands or unique designs and things like that, that the power flush make sure that, you know, all the material makes it through all of the turns and twists are our sharper hole or something along those lines to get the material into the sewer pipe.
Eric: I am, I, I have the clog target still down in the basement. And part of me wants to just break the thing open with a hammer to see what it is that clogged that thing. And I have a feeling it's a dog toy
Will: That happens. Like I said, somebody flushed out or they were cleaning up after the kitchen, instead of throwing broccoli into the garbage can they threw it into the toilet and then flushed it. And it was, it wasn't what I was expecting when we ended up taking the toilet apart to find out what was in it.
Eric: Yeah. My thinking is like, it was the middle of the night, the one of the puppies where they, they, cause they are just mischievous. They, they drop something in the toilet and one of us was up in the middle of the night and you know, it was dark or whatever, and you flush the toilet and boom, it got lodged in there. And so, I don't know, I think I'm just going to crack open the back end of that toilet, just to kind of, cause you can run the smaller snake and I can get the snake all the way through the convoluted pipe, behind the ball. And it comes out the horn, it's called the Horner that the flange, and yet it still would, the water would barely run through it when you flush it. So I broke one of my toilet snakes trying to fix this.
Eric: So how do you break a toilet snake? The JN the LA the, the, the right angle. And so everyone that's listening. If you have like a, a a regular snake to clean out unclog your sinks and it, you know, it has a we'll take a little pistol grip with a reservoir of flexible cable behind it. And you grab the bat, it looks like a upside down space capsule, and you spin the bow, you spin the back-end and it slowly feeds out the coily snake wire. Those don't work well for toilets because the wire bangs around inside the bowl and scrapes up the bowl, the metal against the ceramic. And it's hard to get it up under the first bend. So a toilet snake looks like a walking cane and the handle goes into the toilet and up underneath the first bend. And then you can start jamming at the snake is built into the it's an a, it's a hollow pipe. That is actually the walk-in cablee part with that twisty handle in the back. And you slowly spin that and shove it in. And I somehow broke the, the curl end part. I have a, I have a cheap toilet snake and a really good one. And the really good one did just fine, but the cheap one I broke. So you get what you pay for.
Will: I will have to say I I'm thinking about this in my mind of which one we have. And actually we don't have a toilet snake and I've made it two years now without having a clogged toilet after we switched to all the systems. So I don't know if I'm jinxing myself right now, but literally it's a call that I have not had, you know, that I will say this. And I think you pointed this out too. I don't want to sing the praises of a power flush toilet and say, there's no challenges with it. One they're a little bit louder, but two is, they have mechanical parts inside of them that can fail. I know between last season and this previous season we had three different mechanisms have issues with it because of the winter and the cold. And if they don't get blown out properly or anything like that, that you can run into issues.
Will: It's not just like drain the tank and away you go, there's all sorts of little valves and things they could possibly freeze up. But the nice thing is, is American standard. At least the company that we use has a three-year warranty. I called their tech support line and told them what we're looking at. I took a picture. I sent it to them of the parts I was thinking we needed. And literally three days later in the mail came a package with all the parts and no church to me, and it was all done. So it was, it was a pretty neat experience regarding, you know, repairing these things. And it doesn't take rocket science. I mean, literally there's a cartridge in the middle and a couple of hoses and a couple of valves. And that's it.
Eric: Yeah. I actually, when I was looking at the toilets, I went down to the repair aisle cause I needed a wax ring. I always buy more than one wax ring. You just they're all of $2. And I saw the cartridge system replacement parts and I was like, Oh, I kind of get an idea how this works now, but I actually think it's a good idea to keep spare toilet parts on hand anyway, like the, the flapper valve and the fill valve in the toilet, there's two or three companies that make universal fill valves and flappers and buy the expensive one. It's all of $20, I think. But it could save you a call, a service call or a problem in the middle of the night when your family wants to use the toilet and you know, the fill valve was broken or something. So you don't have that way. You don't have to drive all the way down to the home improvement store. You've got the parts right there. So do you keep some parts in stock Melville?
Will: Yeah, we have actually when we talked to American standard and we told them what we were doing, they actually sent us three sets of all of the innards and then also the parts we needed to fix them. So ultimately I can fix up to three before I actually have to call them back for some other repair stuff. So, I mean, they were, they were really good about it and they're not a sponsor or anything like that. It's just the company that we ended up picking, but you can find that company at the orange store or at the blue store right now, I'm in there they're readily available. And the part that's surprising me is when we replaced all the toilets they were between 400 and $500 a piece, which is a lot today. I'm actually shopping for them for the duplex that we're doing a remodel in right now. And I was finding them at the orange store for $179. So the price on them has come down significantly in the last two years.
Eric: Yeah. I was curious because I actually I'm in my house in Brooklyn. I have what I call contractor grade toilets. They're they're from Lowe's they're Lowe's house brand. And I thought these are going to clog and break and they haven't. So I'm just going to surprise. Sometimes I'm usually about, I always talk about you get what you pay for don't cheap out on stuff like toilets and, you know, drills and things like this, but the price of a decent working toilet isn't that high anymore.
Will: Well, actually the toilets, the other toilets that I thought were interesting that they came down in price is the dual flush. I don't know if you're familiar with those where you press one and it only uses a little bit of fluid versus you press two and it uses more. Those have come down almost by 50% over the last couple of years.
Eric: Yeah. It's all good because we need to save fresh water. You know, we don't it's it's something that we shouldn't waste is what I think.
Will: Well, the other thing too is if you're on a rural setting and you have a septic tank and you have to pay for that tank to be serviced every time you flush the toilet, that's money that you're going to have to pay at some point to have somebody pump that out. Now, if you having a toilet for us, we were able to knock our toilet usage down by 50%, which saved us significantly over a four month period. When you have thousands of people flushing the toilet all year long, you know?
Eric: Yeah. Also just a word, even if like we have our little house up in the country and I always in the back of my head, I'm like, yeah, I should have the tank pumped. You know? Cause when we bought it, the tank had been pumped that I'm like, yeah, but we barely use it. You know, we're only there on a weekend in the summer. And so, you know, 10 years later I finally called the company and the two guys that came were super nice, but they were like you gotta, you got a garden hose. We can borrow. I'm like, sure. Why he goes he goes, this is pretty solid in here. And he was like, look, even though you only are here a little bit, you should have a done at a minimum every five years. So I was like, okay. And they were really good. So lesson learned there.
Will: Yeah. It's in our area. Actually the County has a rule that says it. I think it's every three years you have to have your tank service. And you know, in our area tank services about 125 to, you know, $200 somewhere in there, they come out, they inspected and do everything else to keep everything going. But if you don't do that at some point in time, you could end up with a situation where everything dries out in there and then they have to do some major work. And it's I asked him, I said, what happens if one of these has that issue? And he said, it's North of 14 to $1,500 to have it fixed.
Eric: So the two gentlemen came to pump my tank and they were super nice. And they did a great job and this is up in Northwest corner of Connecticut. And I, you know, spend most of my time in the city here and they were, they were great. They were, they are cleaning up, they're getting in the truck and I handed them both a healthy tip and they looked at me like I was from outer space. What does a healthy tip? Like I gave him 20 bucks. I gave him 20 bucks a piece. I said, guys, thank you very much. Go get yourself some lunch. Cause they had to work at, you know, cleaning the sludge off the bottom of what the garden hose and he'll sticking their head in there and looking at it, you know? And, and in your town, do you tip people or do you, is that cause in, in the New York city area, you, you tip everybody.
Will: I do not tip my septic company, but I also pump 187,000 gallons a year with them. So I pay them enough. They should be sending me a Christmas card, not saying anything negative, just saying that, you know, we tip people, but I don't tip the septic guys. So
Eric: Especially during the pandemic there are two restaurants that we've been supporting and I overtip the delivery guy because he's on the front lines of this thing. I'm just like here, you know, thank you for being here. So it's kind of karma is boomerang with tipping. So
Will: I would have to say, I agree with you. I mean, we go to some of the local restaurants and in the area and you know, when we go in, you know, there might only be two or three of us in the actual place. So now the servers are used to having a full place and it's hopping and they're making good tips and things like that. And other working shifts and you know, just trying to make it by. And so we always make sure that we will try to double it if we can, you know, whatever our bill is. We'll give that an equivalent of a tip because I mean, eating here is fairly inexpensive. So a dinner out for four people here is $28. So to give a 20 or $25 tip, it's not that big of a deal. Wow.
Eric: Do you shop on Amazon? I shop locally and also on Amazon and other line line stores. If I need something very specific light seat covers for the new used car we just bought, I will go online and sometimes use Amazon and garden fork happens to have a dedicated shopping page on the Amazon site now, which is very cool. It is an link page. We do get a finder's fee for anything that you buy when you start shopping from that page. But I list their interesting items that I think are worthy of the garden fork, DIY person, it's amazon.com/shop/garden fork. If you would start your Amazon shopping experience, no matter what you're looking for on Amazon started at garden fork. And that would be great. It's amazon.com/shop/garden fork. That's amazon.com/shop/guide.
Eric: The other day you called me because you have these long drives to the hardware store. And I was trying to fix our internet routers and you happen to know something about that kind of thing. So I'll, I'll tell my story and then you can be the expert. Okay. Okay. I'll pretend to be the expert this time. So I'm a big fan of a site called wire cutter or the wire cutter. It's now owned by the New York times, but it was started by a guy who wanted the in-depth review. He started that with electronics and they broadened in the household items fell by it's like the Cook's illustrated of electronics. You know, they, they, they, they buy off the shelf. They don't get it from the manufacturer. They test it for six months and they write an article and they make their revenue from like Amazon affiliate links.
Eric: You know, we think this one's the best here, buy it on Amazon or target or Walmart or whatever. But the New York times bought them and they're very good. And I wanted I've always had Apple wifi routers because they're Bulletproof, but Apple started stopped selling them or supporting them. So wire cutter said to get Archer TP link, Archer, wifi router, and then it said, you can create a fo mesh network. If you buy two or three of them, it's called, you can get one that's the wifi router. And the other two are essentially slaves to it as access points. So when you walk around the house or the yard, you're still connected to the same wifi name, but you might be jumping to different wifi routers, much like cell towers. So the documentation to set this up is horrible. And we are lucky in New York to have an apartment with two floors and there was some dead spots and I was trying to configure this and I finally figured it out, but then will called while I was doing it. And we had an interesting conversation, I would say. I mean, I am amazed in the last three years, what
Will: Has changed in the wifi realm? I mean, the idea of the reality for me is we've built and remodeled and fixed a number of houses. We have the resort property we have. I dunno if I had mentioned this before, but we started a construction company this last month. And interestingly enough of all of that stuff, we used to always put cat five in the wall and we're going to run cat five everywhere and put all this stuff in. And in the last two projects I've done, we haven't run any cat five wire in the house because wireless has become so robust, so easy to work with and install it. It just amazes me the fact that you can stream 4k television in your living room on wifi. I mean, four years ago, that just wasn't possible because the back bone systems were just not there. So it's amazing where wifi is.
Eric: So what cat five is Easter net wire. In other words, it's that gray or white wire. So you can, you could plug into the back of a Roku or an Apple TV or the back of your television.
Will: Yeah. Like the, the, a duplex remodel I'm doing right now, it's a hundred percent wifi. Like, it was kind of strange, like I got in and I'm like, okay, we're going to need these three days for low voltage. We're going to have to run the wire. Actually, we don't have to run any wires. We don't need any of this. And we ended up starting to cut some of this stuff out and cap it off and everything like that. And we're going to a hundred percent wifi. And this next one, which is a first for us,
Eric: Do you have a, what they call a mesh wifi network? Yeah.
Will: Yeah. Let's talk about that. So there's the way that you have your setup is based on the idea of having, like you said, cellular phone towers that talk to each other. The historical thing is, is having an access point in a network where you have your main network and then an access point where you're just sharing the same name in theory, as you walk around with your laptop because of buffering and YouTube and so on, you would never notice the difference between the connections. But one of the items that happens in a access point network is the handoff isn't as smooth as a mesh network. So a mesh network basically imagine these circles and you put them in your house. And as long as the circles overlap, kind of like a Venn diagram that ultimately you have wifi everywhere in your house in a access point system, it's two circles.
Will: And as you get, as you lose signal from one, it picks up the signal to the next. And it turns off the one and turns on the other versus the mesh network where they're all talking to each other constantly and saying, Hey, Eric's leaving me and coming to you, make sure you pick up exactly at this point. And then you don't lose connection. So where that comes into play is let's say you're downloading a file and you are on an access point and you switched to another access point. When you make that switch, you might have to start that download over again versus on a mesh network. When you go from one spot to another, they talk to each other back and forth. So that then in that scenario, you wouldn't lose your connection at all.
Eric: And my access points are connected by an ethernet cable back to the main router. I mean, it's not too hard for me to run wire on the walls around here. So, but do mesh networks have to be hardwired to the main, the main controller.
Will: So a way a mesh network works is I'll, I'll use Google wifi as an example. They're not a sponsor, but it's probably my favorite wifi system. The best part is, is the price has come down on. It used to be three 99. And now I think you can get it for one 99 for the basic unit. It comes with three of these little pucks. One of them, you plug into your router with a physical wire and you put it down in your basement or your office or wherever your router is. And then you go in your house somewhere else and plug in another puck somewhere else. And then in the app, it'll tell you, Hey, I have enough signal. I'm reaching back to the other one. I can reach it or no, move me closer and so on. And it helps you figure out where to place this. So you get best coverage. And then you plug in the third one and do the same thing. And it helps make that kind of Venn diagram that covers your entire area. The beauty of the mesh network is there's no wires that go to those outpoints versus the access point where you run away or physically to that point. Now there is one benefit is an access point. You could put it 300 feet out somewhere where that puck probably wouldn't reach that distance, but the access point would, if that makes sense.
Eric: Yes, it does. Yeah. Interesting, by the way, the solution I figured out, and this is what the TP link one, and I think it's probably for others as well is you go into the administrater for each router and you give them unique IP addresses. And I think it's the first one is one 90 eight.one 60 two.zero.one. And the second one is dot two. And that solved the problem for me because before that, there were these dynamic IPS that they were self assigning and it was really clunky. So I just I did it manually. And I found that in a obscure YouTube video,
Will: I, I will say this, that, I mean access points and these mesh networks can work very well together. Example, let's say you have a house that's moderately sized. You put a mesh network inside of it. So all of your devices work. And then let's say you have a barn or a garage that's away from the house a ways away, but you still want to be able to stream video out there, have internet or whatever, where you could run a wire out to that garage plug in an access point and access points work really well with mesh networks. It's just a different tool. And the wifi toolbox is easy way to think of it. It's not one is better than the other. It's just, they do different things. And you just need to know which one is best for you.
Eric: That's exactly what I'm doing. Up at our little weekend house is that the garage is it's about 80 feet from the house. And when I ran the new electric up there, I ran an ethernet wire as well
Will: For us. I'm attempting figure out this spring, we're going to bring wifi to the rest of the property at the resort. And when you're trying to figure out how to spread wifi over a 20 acre area, that's pretty challenging and you have to get kind of creative. So we're actually doing a combination of mesh networks and access points have a central hub. And then there's a wire that runs out to a pedestal where that's the start of the mesh network and then put the Venn diagram there. And that covers that, you know, 3000 square feet or 5,000 square feet area, and then run a wire to another pedestal and make that the center of a mesh network. So it's a series of mesh networks, interlinked on access points.
Eric: You just need a hot air balloon floating above the campus there with a big parabolic mirror.
Will: The thing is, is, I mean, you can hire a company like there's a company called I think it's called sky web that will come in and put in, you know, commercial campus grade. Like, you'd see at a university. It's just, I, I can't stomach the bill on that. They wanted $47,000 to put in wifi in the property and I have probably $1,200 worth of equipment. And I got the same thing. Yeah. So it's just, you know, if you can do some research and do some stuff, I mean, their product is probably great for, you know, people have a university campus, we don't have that. I needed something less than a university campus, but more than a wifi router, you can buy it, you know, best buy or target or something like that, you know?
Eric: Yeah. It works, you know? Yeah. There is a grassroots group in New York here. It's in Brooklyn. And of course I can't find the name of it right now. And my friend of mine is hooked up to it. You basically, they have on tops of some buildings, they have connected to the the internet backbone that goes across the country. And then they have these it's like a giant wifi transmitter and you have to have line of sight and they ping pong it from building to building to building. And this slowly going across Brooklyn now. And I am my buddy on 27th street, has it. And I'm on 47th and I'm up on a Hill. And I think I can see the is it called the site? And I think I can see the hardware on top of the building that has the main repeater on it. And I think the install is about $200 and then it's some minimal amount of money a month, but it's kind of the grassroots alternative to time Warner, spectrum, charter, RCN, whoever it is that bought my cable company last, you know?
Will: Yeah, that's a, that's a thing. I mean, the microwave technology in a lot of the urban areas is really becoming a popular thing and, and you know, you, you don't need much to get it up and running other than, you know, the hub point and then physically the hardware to do it, but you literally just have microwave towers that are pointed at each other and you can send that information for a long, long distance.
Eric: Yeah. I'm very intrigued by it. And I'm blanking on the name. People are talking back to the podcast here. I'm sorry, I can't find it, but my buddy has it. And I'm thinking about it. The thing is for my wife's job, she needs rock solid internet. And I don't know if the alternative internet is that rock solid, but
Will: The only hangup that you run into with a lot of the alternative internets is called lag or latency. I think those are the things where if you're playing online games where you're ping rate is really important, or if you're doing zoom calls and HD, and you're the synchronizing hub for the whole thing, you know, those types of activities, you're probably going to need something a little bit better, but for most people watching YouTube or downloading or doing Netflix, I'm guessing that service would be perfect for them.
Eric: I'm just not. I'm thin. My brain is thinking and thinking and thinking here,
Will: I have to run to the hardware store next week. So you can call me on Monday and we can talk.
Eric: Yeah. So my laptop is about to run out of its battery because we were doing this in the kitchen and I plugged in the charger and it created a buzzing sound in the call. My low battery warning just came on. So I think we're, we have a few minutes left. We're going to do our after show for the garden fork patrons, but I think that's enough toilet and wifi information you think. Well,
Will: That was a lot of toilet talk. I would say
Eric: I would love to hear from you it's radio@gardenfork.tv radio@gardenfork.tv. If you're interested in becoming a supporter of the podcast there's information in the show notes, Patreon.com/GardenFork Will. And I are going to do a little after show for the garden fork patrons. I'm not sure what we're going to talk about, but it's always interesting.
GardenFork Radio is produced by GardenFork Media, LLC in Brooklyn, New York, executive producer, Jimmy Gootz. If you'd like to learn more about Jimmy and the custom hollow books, he makes you can visit hollowbooks.com. The music for our show is licensed from audio blocks.com and unique tracks.com.