White beans, be they navy beans, yankee beans, great northern beans, are great in soup. This is my really simple fast recipe for white beans. This can be cooked with canned beans or dry beans. Dry beans take longer, but if you have time, great. I use a pressure cooker to cook my dry beans.
Being a strong proponent of the KISS [keep it simple stupid] theory of life, this soup is a charter member. Beans, onions, garlic, olive oil - cook and you are done.
The version we do here is dressed up a bit with cheese rinds and oregano, but again, it doesn't need this to taste great on a fall evening.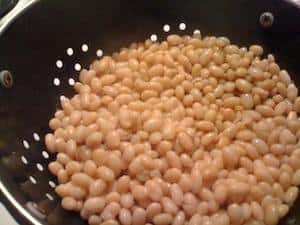 White Bean Soup
Bag of White Beans or a large can of beans
1 onion, chopped
Chopped Garlic
Options:
Chicken or vegetable stock
Cheese rinds
Oregano, Marjoram, Rosemary, Sage
Pesto
If you have dry beans, cook them and save the cooking water.
Saute the onion until golden clear.
Add the beans, and bring to a simmer.
If desired, add seasonings and cheese rinds.
If you have the time, allow the beans to simmer so the flavorings work thru the soup.
If not, after 10 minutes, its done.
For a decadent flourish, add a splash of olive oil or pesto to each bowl just before serving.