Wholewheat Tuna Dog Treats -Adorrable Dor
Hey Allemaal! -which means everyone in Dutch-
Finally we are getting some decent spring weather, and boy do we need it. I think we are about 3 to 4 weeks behind normal spring growth and my garden is poised to explode with greens and all kinds of flowers. Now comes the really difficult part of teaching Roshi to stay on the paths and grass and out of the vegetable and flower beds. As she is a darling Labrador in full puberty this is a hit and miss experience at the moment. But I already decided to keep the veggies limited to lettuces and legumes this year so if she damages anything in youthful folly it can be replaced easily.
A note about the Sweet Potato dogtreats I made early March, because there is a high moisture content they must be either used within 10 days or so or be kept in the refrigerator. The last couple of treats I made spoiled I'm sorry to say.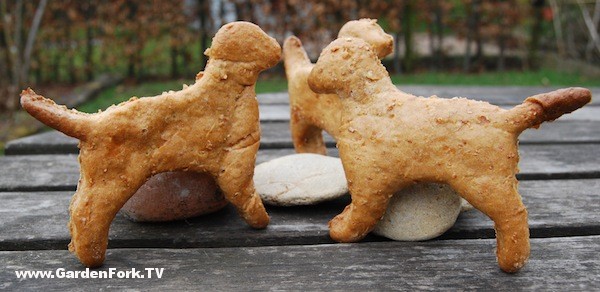 These Tuna Treats are also quite high in moisture but should keep 2 weeks without problems, that is if you can keep your dogs from stealing them. That's what happed to Ellie -Roshi's breeder- when I made her these treats for her 5 grown Labs. Within half an hour Roshi's mom Esmer stole the container full of treats from the kitchen counter and all Labs pounced and devoured the lot, destroying the plastic tub in the process. The garlic in this recipe is optional but most dogs seem to have no problems with it and garlic helps with flea and tick control.
The picture shows Rosh enjoying her new bowl rack –is that what you call this contraption in English- so she does not stretch her neck and spine too much when eating. Credit goes to my husband, he cleverly fashioned it from an Ikea IVAR bookcase sidepanel.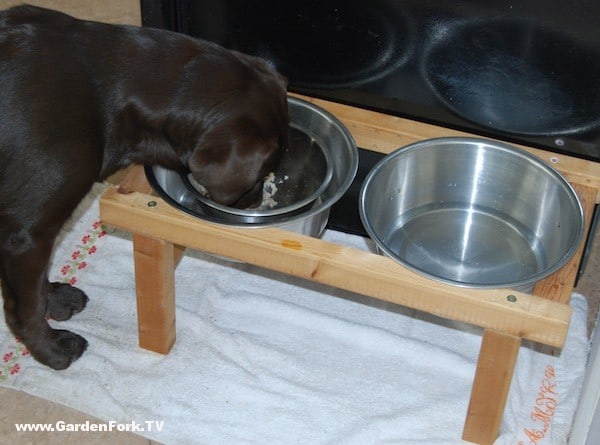 Wholewheat Tuna Dog Treats
If you have tuna in water no problem, substitute the 2 tablespoons of water for olive or vegetable oil.
1 small can of tuna in oil
2 tablespoons of water
300 grams or 10.5 ounces of whole wheat flour
2 eggs
4 cloves of chopped garlic
This recipe uses a kitchen blender but you can easily mix and knead this dough by hand, just chop the garlic very finely.
Preheat your oven at 200 C or 395 F.
Blend the tuna, water and garlic in the machine, add flour and eggs. Whizz again until it forms a firm but slightly sticky dough.
Remove from the blender and add a little flour if it is too sticky to roll out comfortably.
Using a rolling pin, glass or just your hands, roll or push the dough to a thickness of about 1 cm or ⅓ inch. It will puff a bit in the oven, so will make a substantial treat.
Distribute the treats evenly on a baking sheet lined with greaseproof paper. Bake for about 30 minutes until nicely golden brown. You can leave them in the cooling oven for an hour or so, they will crisp up even more.
I use Roshi's Labrador cookie cutter but you can use any shape that takes your fancy, this is a very well behaved dough.
Of course using a glass or the empty tuna can, even cutting into strips will work just as well.
This recipe is adapted from the Hondenkoekjes met Tonijn recipe from the www.hondenkoekjes.nl site.