Another of our Beekeeping 101 videos on how to do a winter bee inspection. Links to more beekeeping videos at end of the post. This time we open up the beehives in late March to show us feeding bees in winter. Keeping bees in areas with snow and winter, you will want to add sugar cakes, aka fondant, in the winter, and then add protein patties in late winter - early spring to get the honeybees going early.
You can open a beehive if its above 40F to do a quick winter bee inspection, if its in the 30sF, you can open it real quick to put some sugar on the top of the hive. Do not take the hive apart for a full inspection. We are just taking off the outer and inner cover, and looking in from the top of the hive real quick. The faster you do this the better, I think.

Honeybees may not always crawl up to the top and show themselves, they may still be clustered in a lower super, so just leave them that way. If you come across a dead hive, as we did, my suggestion is to leave the hive be, tape up the entrances, and clean out the hive when it warms up. You tape the entrances closed to keep the wax moths from moving in as spring approaches.
Why did my bees die? Its not always obvious. Condensation is a big winter killer, but since we switched to the insulated inner covers we built, click for the insulated inner cover post, we have not had a condensation problem in the beehives in winter. Every year we have had a beehive die in winter, it is hard to get them all through winter. So when a hive dies, don't blame yourself if you have done the following:
Followed a plan for varroa mite control
Fed bees in fall with sugar syrup
Left enough honey in the hive for winter
Added sugar cakes or fondant
Used an insulated inner cover
Tilted the hives forward in fall
Read more of our beekeeping posts here and watch beekeeping videos here. Thx!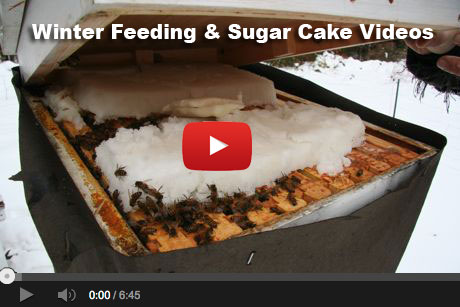 Questions, comments? please let us know below: