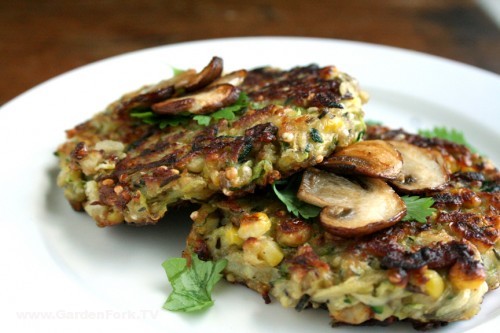 This fried dish marks the last summer harvest — sweet corn and zucchini from Eric's garden make for some tasty, savory fritters. Some find it difficult to make golden, crispy fritters that hold together. When something is deep-fried correctly it is not greasy and the inside is perfectly steamed. The usual suspects are soggy batter, over crowding the pan, and oil that isn't hot enough for deep frying. The key ingredient, zucchini, must be coarsely grated and salted to remove some of the liquid, otherwise the batter is too wet. Use a high heat oil like Canola to get the right frying temperature, which is between 175 and 190 °C (345–375 °F). Frying in small batches ensure that the oil maintains its high temperature. Baking powder is optional, but it does lighten up the batter as it rises with heat. Are you ready to fry?
Squash and Corn Fritters
Yield: 4 fritters
2 cups coarsely grated young squash (or zucchini)
½ cup thinly sliced white onion
1 cup cooked corn (frozen or fresh)
¼ cup Quinoa, (optional) or corn meal
½ cup unseasoned breadcrumbs
1 egg
1 teaspoon each thyme, oregano, powder cumin, dried onion flakes
½ teaspoon chili powder
½ teaspoon powdered garlic
½ teaspoon baking powder (optional)
¼ teaspoon black pepper
2 teaspoon white flour
1 tablespoon sea salt
9" Cast iron skillet
Canola or any high-heat oil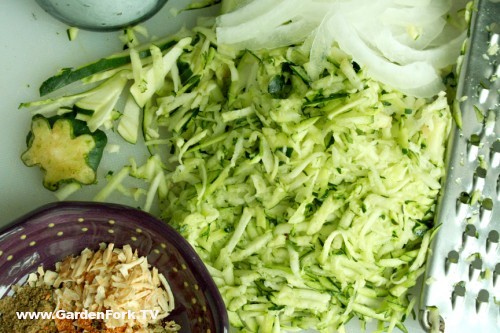 With a coarse grater, shred the green squash, add thin slices of onion (paper thin), Quinoa, and ½ tablespoon salt and mix well. Press the mix in a sieve with a spatula then set aside for about an hour to drain most of the liquid. It should yield about ⅛ cup of liquid, which you will discard. If your squash is a bit seedy, use a tablespoon to scoop out the seeds and tough fiber.

In a hot pan, cook corn with a little water then add a little oil (or butter) and a pinch of a salt. When most of the water has evaporated and the corn is lightly browned, it's ready. Set it aside to cool down to room temperature. The corn can be fresh or frozen. You can't beat corn on the cob, but freezing actually improves corn giving it a sweeter flavor and a better texture. If you're using frozen corn be sure it's completely thawed and drained before cooking.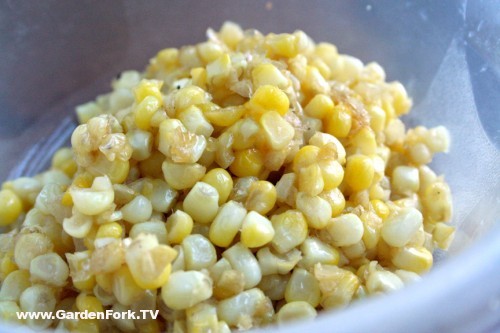 In a large bowl, add cooked corn, grated squash and onion, dried herbs and spices. Mix until everything is evenly incorporated. Then add egg, baking powder, salt and all remaining dry ingredients to bind everything. Mix well, cover and set aside in the fridge for at least half an hour. The batter should be thick, gloppy, and lumpy and it should hold together without separating.

In a hot 9" cast iron skillet add oil to a depth of ¼". To check if the oil is hot enough, stick the end of a wooden chopstick into the pan. When bubbles form around the chopstick it's fryin' time. Scoop a heaping tablespoon of batter into the pan. Brown for about five minutes, gently press down with a spatula, then carefully flip it over. Don't crowd the pan, fry only two or three at at time. When both sides are evenly browned, drain well on paper towels. If the oil starts to smoke, clear out the dukes and lower the temperature.
Keep the finished fritters in a warm oven and serve hot — garnish with fresh cilantro, fried onion or mushroom. How about some mango chutney or Branston Pickle? If you want to make this an authentic South Asian dish, add ground dried shrimp or diced cooked lap song sausage to the batter and served with pan-toasted garlic.