Bake a simple cake with our 2 ingredient cake recipe. Yes, it works. Super simple cake recipe, just watch our video and follow along.
This cake recipe succeeds because ice cream has the same ingredient as most cakes:
Eggs
Dairy - in this case cream and milk
Vanilla or some sort of flavoring

The addition of self rising flour makes for a true 2 ingredient cake. I have found if you want to get a high rise, use a narrow loaf pan. And in true "use what you got"™ GardenFork style, we had some dried cranberries on hand, so we tossed those in. You could add in walnuts or raisinss, dates, etc.
The choice of what kind of ice cream opens up all sorts of possiblities. Want to make pistachio cake? Buy pistachio ice cream. I think a chocolate chip mint ice cream cake sounds great. That and   cup of coffee makes dessert easy. I also like this style of simple cake recipe because it gets kids interested in cooking. I'm thinking they will be curious about how ice cream can become cake.
I like to have ice cream along with most quick cakes, and our 2 ingredient cake work well with additional ice cream in its original form alongside the cake. Now i'm wondering if someone makes banana ice cream, and whether it would work , and how it would taste. With the endless flavors of ice cream available, you will busy with the cake recipe.
If you like easy cakes, consider trying out our 5 minute microwave cake, decadent and done in 5 min. nice.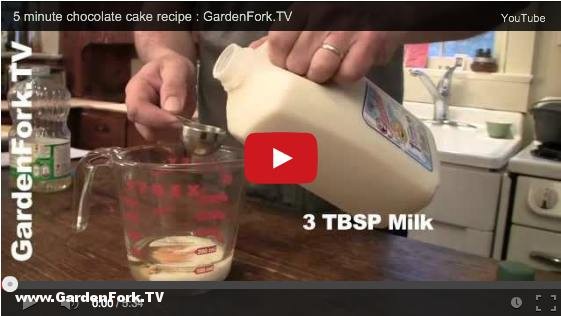 If you don't have self rising flour, you can make some. For each cup of self rising flour needed, add 1 ½ teaspoons of baking powder and a pinch of salt to one cup of all purpose flour
2 Ingredient Cake Recipe
Ingredients
• 1 pint high quality ice cream, vanilla to start
• 1 ½ cups self rising flour
• handful nuts, dried fruits, whatever you got
Cooking Directions
1. Preheat your oven to 350 F
2. Oil and flour a 4 x 8 cake pan or similar loaf pan
3. Put the ice cream on counter to melt.
4. When its kinda thick but liquid-like, pour the ice cream into a bowl.
5. Add the flour and mix, but don\'t over mix.
6. Pour into cake pan
7. Bake for 45 min, until knife comes out clean.