Deek's  simple A Frame Tiny House Plans start the show. Deek is part of the tiny house movement, publishing videos on his YouTube Channel, and his tiny house plans book, and hosting workshops. Eric and Rick like the A frame plan, it is a great starter cabin for that piece of land out in the country.
Watch the video about Deek's A Frame tiny house plan here and download the plans here.
Rick and Eric are both big fans of WFIU Earth Eats, a really well produced radio show, the polar opposite of GardenFork Radio. Annie Corrigan does a great job producing and hosting the show.
Here is the some photos of Earth Eats on Flickr and on Pinterest.
Beginner's Guide To Gardening: Recycling In The Garden | Earth Eats - Indiana Public Media http://ow.ly/vXLKl
Carrots From Farm To Plate, Magical Cheese Microbes, Urban Vertical Farming, Will Allen | Earth Eats - Indiana Public Media
We talk about the new GardenFork.TV videos, an ornamental seed starting video, and the famous freecycle propane grill repair video that Eric is still excited about. Free propane grill, what's not to like?
Rick is shooting Grafting tomatoes vid today, results in a couple of weeks (tobacco mosaic virus, darkness, to top or not), the tomato blight has been a real problem on the east coast, Rick is grafting blight resistant stock with good fruit plants. Stay tuned for the results.
Rick made a new video using jigs to assemble wooden ware https://vimeo.com/92171810
Eric talks about the new video soft lights that he bought on ebay.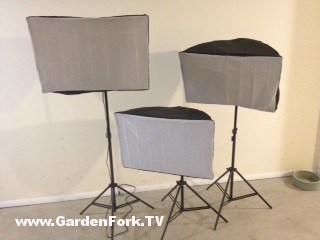 Click Here To Check Out The Photo Video Soft Lights