This post may contain affiliate links, it helps us pay the bills, more info here.
Here's a DIY maple syrup evaporator made out of an old metal barrel with a few enhancement you can easily put together from spare parts or a scrap yard. I ran across the homemade evaporator at my friend Priscilla's house. She has upgraded to a stainless steel commercial evaporator, but this was sitting next to the barn, so I had to check it out.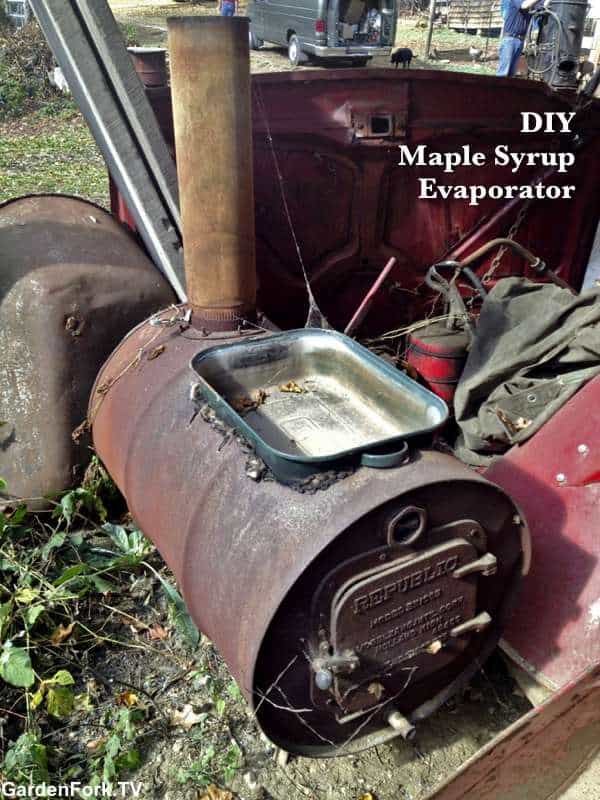 The evaporator tray on this DIY maple syrup evaporator is an old turkey roasting pan, perfect for the wide surface area you need when boiling down sugar maple sap. The wider and larger your tray is the better. The whole idea is to boil off the water to make maple syrup.
I'm not sure where the firedoor came from, you might find one at a welding shop, or you can buy a kit online that will turn a barrel into a wood stove here. After you attach the fire door and the stovepipe, you cut out an opening for the evaporator tray, and you are good to go.
Couple things to remember using a DIY Maple Syrup Evaporator:
Maple sap becomes maple syrup when it reaches 7.5 F degrees above the local water boiling point. Water boils at 212F at sea level, so boil some water on your stove and use your digital thermometer to see what temperature it is boiling at. The temp will probably be lower than 212. Our water boils at 210F, as we are at about 1700' in elevation.
Don't let the syrup get overheated. I do the final boil in the stovetop in my kitchen in a big pasta pot. Its hard to control the temp on a wood fired barrel stove.
You don't have to boil all the sap down at once. You can let the fire die down with sap in the tray, and just start up again the next day.
Store your sap in the cold. I keep it in clean plastic trash can buried in snow.
You can buy maple tapping supplies here.
Check out our other how to make maple syrup videos here: