We have all sorts seed starting pots, but how about seed starters that have their own roofs? A neat idea that includes a solution for plastic bottles that function as a mini greenhouse for each seed starting pot. Jeremy sent me this photo and email about making these mini greenhouses with recycled bottles.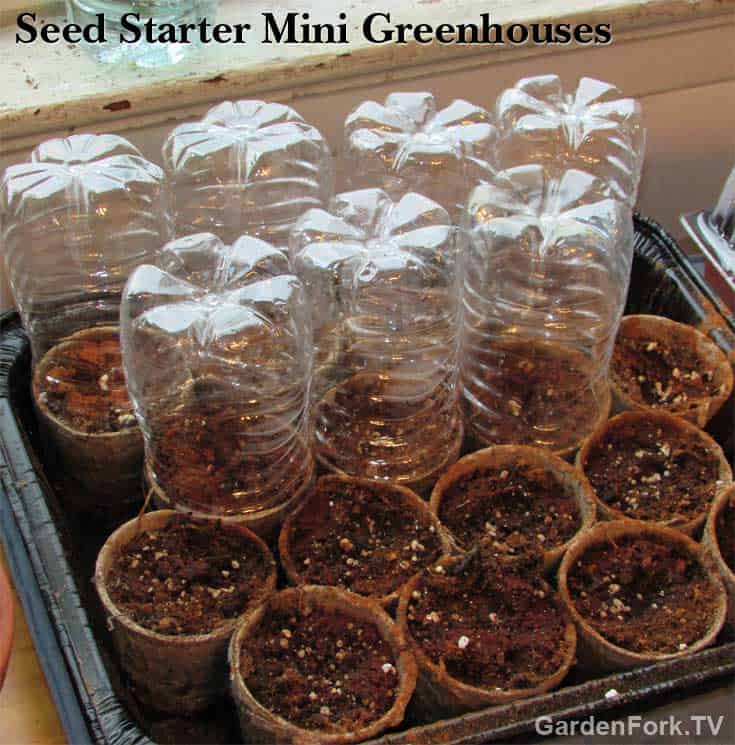 "I just want to thank you for all you have done for everyone over the years. You have been a huge help to me and an inspiration since last spring when I started gardening again after the loss of my mother.It was the best therapy I could ever hope for and You helped me more than you would ever imagine. Now I want to try and help you out if possible.
While starting my seeds this last week I had come up with a cheap way to make a little green house by just getting a 2 piece disposable baking pan with large dome lid for a dollar at the dollar store and the smaller peat pots that you could fit 16 of them into each pan. Well I had a little too much moisture in there and had to open it up and kill the fungus on a few of the pots and it got me thinking.
I drink bottled water a lot and I grabbed an empty bottle cut the top off and it fits perfectly over the peat pot and has a resting ledge on the ribbing of the bottle where it stops making each pot have it's own personal mini green house.
You can set them on a window sill if you are low on space and line the whole thing with them. If it works out well I was thinking it would also be a good way to keep infestations contained to one or two seedlings instead of a whole tray. Here are some Pictures in case you wanted to see it and give it a try. It's a great way to recycle some of the water bottles and keep them out of a landfill. "
Beautifully simple and something I had never thought of. I am always wanting to over-engineer everything, and make it bigger than it needs to be. A big thank you to Jeremy for taking the time to send that. Do you make seed starting pots? Let me know in the comments below!
If you live in the northern areas of the world, its time to start seed starting pots with sugar snap peas, and then some tomatoes too. Below are links to check out our how to make seed starting pots and how to start seeds videos.