After trying several kinds, this beehive winter wrap works best for me. Its easy to put on, and I can re-use it every year. It makes winterizing beehives easier, and the honeybees make it through winter.

Beehive Winter Wrap How To:
Insulating the beehive is the first part of winter prep. The second and third parts of winterizing the beehive is to use an insulated inner cover and add a backup source of food, we use the dry sugar method. Before any winterizing, treat the bees for varroa mites.

I use the 2" thick polystyrene you can buy at the lumber store. Its usually used for insulating walls and basements. Its not the cheapest stuff, but it will last a long time, just don't beat it up. One 24" x 96" piece will wrap a hive with some leftover.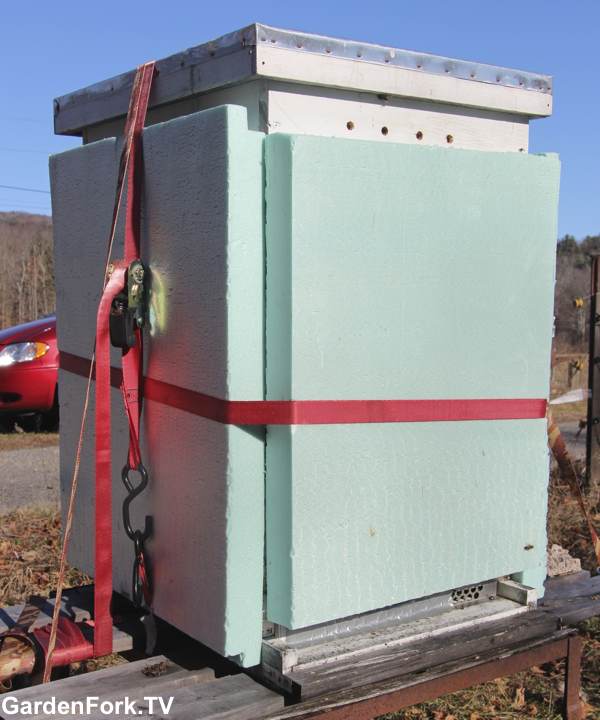 I cut it with a retractable box knife with the blade pushed all the way out. Be very careful when cutting. Use a piece of metal or wood as a straight edge, and make series of cuts down through the polystyrene. You can also use a hand saw with a straight edge. Best to cut this on a work table or somewhere you don't mind getting knife marks. Once you make several cuts down through the material, you can snap it off, kinda like cutting drywall.
Keep in mind the pieces do not have to be perfect.
The front piece of insulation will be shorter than the back piece. You have to make sure not to cover the lower or upper entrances with the insulation. These both need to stay open through winter. I use a ratchet strap to hold the hive wrap against the beehive, you could also use 2 bungee cords, one near the top, one near the bottom.