These are the two best beginning beekeeping books, and I've bought more than my fair share of beekeeping books.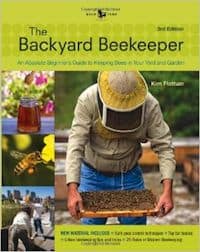 Kim Flottum's The Backyard Beekeeper, I think, is one of the best books. This is actually the book that introduced me to beekeeping. I was in our local bookstore just looking around and I ran across this book called Backyard Beekeeping and a light bulb went off in my head! I immediately thought, I would like to have honeybees. I bought the book and inhaled it. I've met Kim Flottum, the author, he's a super nice guy. He walks you through beekeeping in detail, but in easy to understand writing. Really well done
Lots of really good pictures,  Kim is clearly an expert. He is the editor of one of the more popular beekeeping magazines and I've heard him speak and he's just an all-around good guy. In short, I like this book I think it's a good one to buy for the beginning beekeeper.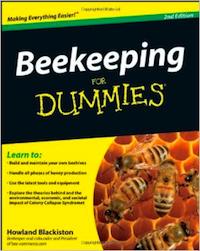 The book Beekeeping for Dummies is a really great first year book. Now I know you're thinking that 'oh it's one of those Dummies Books' but despite its name I think it's great especially for the first year beekeeper. Its inclusion here as a best beginning beekeeping book is a testament to Mr Blackliston's easy to understand text in the book.
Your first year beekeeping you have a lot of questions, you might even have some anxiety about it. The author Howland  puts that to rest  as he walks you through the first year. The book lists out what you should do every month with your bees,  he provides recipes and hints and tips. I just think it's really well done, I like the book and this new edition has more up to date info.
To me these two books are the books you should buy when you're starting to learn about beekeeping and when you actually get your bees. Buy these books before you get your bees read them over the winter and just inhale. They have a really a lot of great information - it's how I learned. I constantly refer back to these books when I have a question about something.