This post may contain affiliate links, it helps us pay the bills, more info here.
Hanging shelves on a concrete wall, or a brick wall? Learn how to drill into brick and cement with our how to video. There are links to the tools you will need, and more DIY videos below the video player here.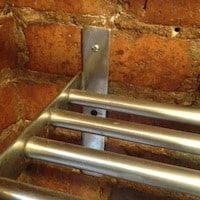 Keep in mind when you are hanging shelves on a concrete wall you're going to have to drill into the cement and that is going to create a lot of dust. Have a vacuum or better yet a shop vac nearby to suck up all that cement or brick dust. What I do when I'm drilling into cement or brick is I have the vacuum hose right next to the drill bit while I'm drilling. This does a really good job of keeping the dust down. You can see on this post on how to hang a TV on a brick wall just how much how much dust gets flying around if you don't use a vacuum.
Depending on how heavy the items are that you want to put on your shelves, you're going to have to use fairly cement anchors. Don't use those cheap plastic anchors, you will regret it. You're going to need metal anchors - I like to use metal sleeves would you can buy at the home-improvement store.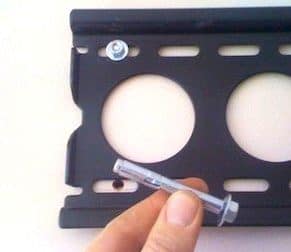 You're going to need a hammer drill to drill into the concrete or brick and you're going to need masonry drill bits to use with your hammer drill. Regular drill bits won't work for drilling into cement OK?
Here is detailed post on how to hang a TV on a cement wall.
Here are some links to buy a hammer drill and masonry drill bits

let me know what you think in the comments below, thx!