With two Yellow Labs in our house, here is my best house cleaning tip for dog hair. Its a battery powered lightweight vacuum. Dog hair is a constantly falling onto our floors. Whenever the dogs shake, there it goes. With this vacuum, I can keep on top of the mess.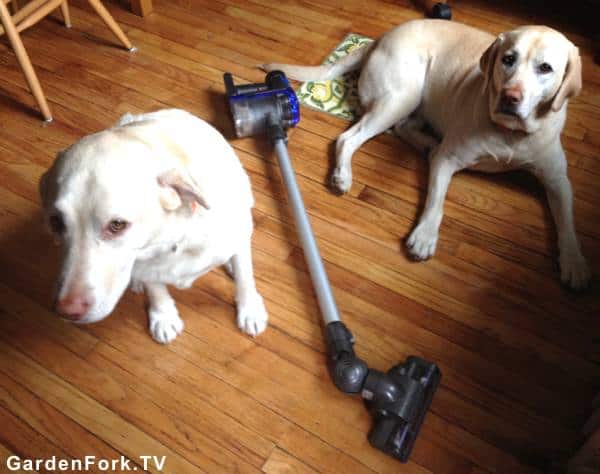 I have a regular canister style vacuum, but its a pain to pull out of the closet, unwrap the cord, empty the bag, plug it in, etc. It does do a good job, but its a project to make it all happen.
I'm a little obsessed about the tumbleweeds of dog hair that seem to appear out of nowhere on the floor, or pile up in corners, under chair legs, or just everywhere.
With this Dyson cordless vacuum, I just hit the floor running. The battery powered vacuum sits in the corner of the kitchen, already charged, so when I need it, its there. Gone are those rolling balls of fur.
Here's why I like the Dyson Cordless Vacuum.
Cordless: I don't have to wrangle with plugging it in.
Bagless: I easily dump the dog hair and dirt into the trash.
Lightweight: Makes for quick cleaning, easy to store in the kitchen.
Powered Floor Head: it has a roller bar to pull up the dirt.
Built Well: Its just a smartly designed machine.
I read reviews that suggested I buy the bare floor attachment, and that was a mistake. I keep the power roller head on it all the time. It goes pretty good on carpet, and very well on floors. Of course, a full size vacuum is going to do carpet better, but its pain to pull that rig out of the basement. What is super handy is the ability to attach the power head right to the vacuum body, this way you can vacuum stairs and couches. Or dog beds.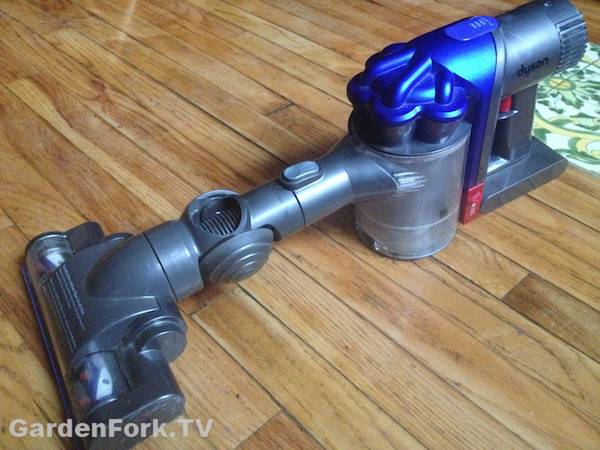 A full charge will vacuum about 1,000 sq ft of house. You can buy additional batteries, and Dyson has a hanging rack to store it while it charges.
I've had this unit several years and it has worked great. Once the roller bar stopped working, but all I had to do is remove the roller and clean it up. It went back together very easily. One thing you have to remember to do is clean the filter. Do this one thing and you are good to go.
What I love is how the this rig allows spontaneous cleaning to happen quickly. I see the dog hair on the floor, hit it with the cordless vacuum, and its done. So yeah, this is the best house cleaning tip for dog hair.
Dyson has several models, they keep upgrading them. You can shop for them on Amazon here.