Most fry pan pizza ain't great, but this stove top pizza recipe is truly the best. Why? Its a thin crust pizza with a nice snap, and it can be made in about 5 minutes, and you don't have to make pizza dough the day before.
The key ingredient to this pizza is tortillas. Who knew? I've seen many recipes that say to use a pita bread as the pizza crust, and its real underwhelming. The torilla is already thin, and it crisps up nicely in some oil in a cast iron pan. You can also use a Calphalon style pan, but it has to be oven proof.

But where to get tortillas? In your grocery store. From what I can tell, they are now sold all over the country. Yes you can use those tortillas that you have to cook first, just cook the top side bit first, then flip it and add your sauce and toppings.
The pan does not need a lot of oil, as the excess oil can smoke when you put this in the broiler. Learn from my experience. The ideal tortilla is one that covers the bottom of the fry pan, mine did not, but it wasn't a big deal, it still tasted great.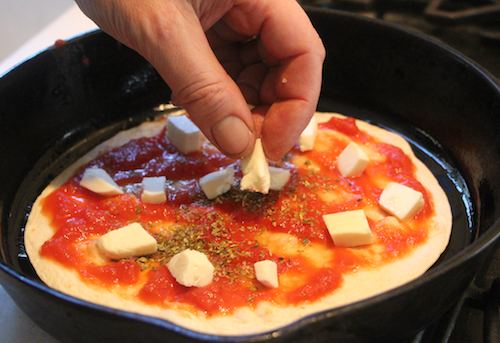 My tomato sauce is super simple. Quality pureed canned tomatoes are already cooked and only need some salt and I add a few tablespoons of italian seasoning mix. Done.
For cheese, I used chopped up fresh mozzarella, and quality Pecorino Romano. Do not fill the whole crust with cheese, it will spread out nicely.
For toppings, its really use what you got. I always keep a can of sundried tomatoes in the fridge, and I had some nice dry sausage that I chopped up.
Best Stove Top Pizza Recipe
1 can quality pureed tomatoes
2 tablespoons italian seasoning mix
1 bag tortillas that fit your fry pan
1 chunk of pecorino romano
1 ball of fresh mozzarella
Few slices of quality dried sausage
1 cup sun dried tomatoes
Preheat the broiler
Heat the cast iron fry pan on the stove top, add enough vegetable oil to coat the bottom of the pan. When it shimmers, drop on the tortilla.
Spread the tomato sauce mixture lightly on the tortilla, and drop on chunks of mozzarella.
Add dried tomatoes and sausage.
Sprinkle romano cheese.
By now the fry pan will be hot, so be careful. Take this pan and put it in the broiler, the closer the better to the broil element.
Keep an eye on it, but in about 2-3 minutes, the top of the pizza will be melted and toasted.
Pull out, let cool a bit, and cut into slices.