I didn't really know what to make for dinner last night, and I had a bunch of onions in the refrigerator which I had bought at the Costco. So I thought okay, I'm going to chop up an onion and start cooking it and go from there. I took a large onion and I cut it in half and then cut it into half ring things.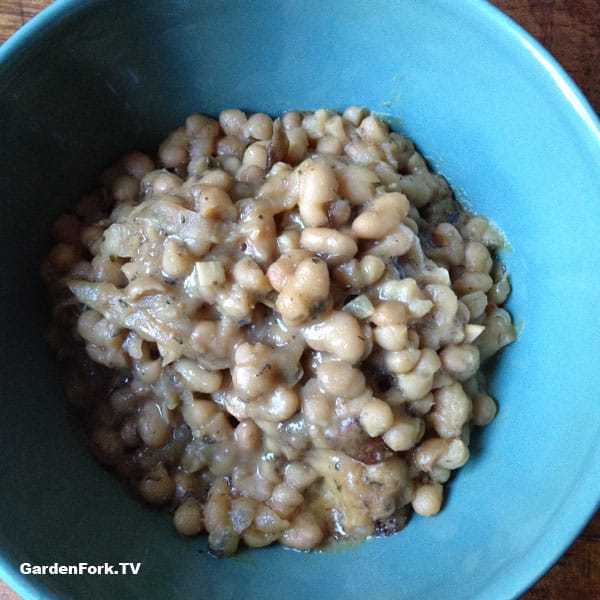 I think you need to cook onions in more oil than people seem to think on the cooking shows, so I dumped a bunch of blogs of oil into a pot and dropped in the onions. I then just kinda looked around and I saw that I had just bought a can of small white beans from the grocery store. The Goya brand, which I like. I guess it's a 28 ounce can or so of small white beans. I cooked down the onions and I threw in two clothes of chopped up garlic. I first put the lid on and let the onions sweat and steam. Then I take the lid off and let them cook until they are almost burnt - by accident - because I walked away from the stove. I dropped in the white beans and a tablespoon of the Italian seasoning mix that I have. I went into the fridge and pulled out some Parmesan Reggiano cheese rinds that I had been saving and I threw those in. Heated it long enough to cook through, let the cheese rinds get kind of soft and boom done.
That was the most amazing white bean soup I've ever made and it was like nothing to it. Of course we have some bean dinner videos here for you to check out. So what do you think, how do you make white bean soup? Let me know below:
Easy White Bean Soup Recipe
1 can medium size 28 oz or so small white beans. I used the Goya brand
1 large onion, cut in half, then sliced into ¼" rings
1 tablespoon italian seasoning mix
2 cloves garlic chopped up
Cheese rinds if you have them.
In a medium sized pan, glug in vegetable oil. Don't just skim the surface, glug enough.
Heat this up till it shimmers, and drop in the onions. Stir around and cover the pan for a few minutes. You want to steam the onions a bit,
Take off the cover, throw in the garlic and cook down the onions until golden, medium heat, but keep an eye on it. Kinda burnt is OK.
When the onions are golden, add in the can of white beans and the cheese rinds.
Top with the italian seasoning, stir in and warm up the mix to bubbling.
Don't over cook this, but let the cheese rinds soften, so some of their flavor moves into the beans.
I had this with grilled cheese. nice.