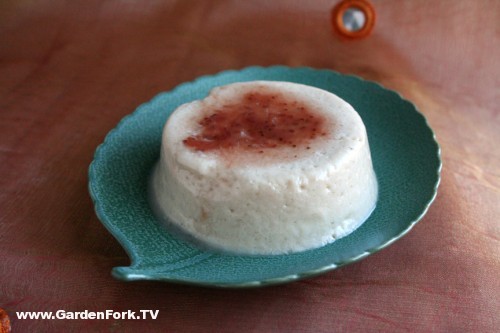 Some Brits fondly refer to blancmange (blə-mɒnʒ) as "shape," probably because this rich, almond flavored dessert is usually set in small molds. It's hardly diet food — made with milk, cream, egg, and sugar; and thickened with Irish moss (carrageen). This custard from the UK is similar to other puddings such as Bavarian cream, vanilla pudding, and panna cotta. This recipe requires whole milk — non-lactose milk, soy, or skim milk will not set properly.
Carrageen, better known as Irish moss is used a thickening agent, just as agar (red algae) is used in Asian foods. For this recipe I used dried carrageen, not "carrageenan" the commercially prepared extract. 1 oz. of dried carrageen will roughly set up as one cup of liquid. Irish moss can be purchased in dried bundles from online stores or from health food stores. Although not authentic to recipe, you can also substitute with gelatin or agar. Follow instructions to make ⅓ cup.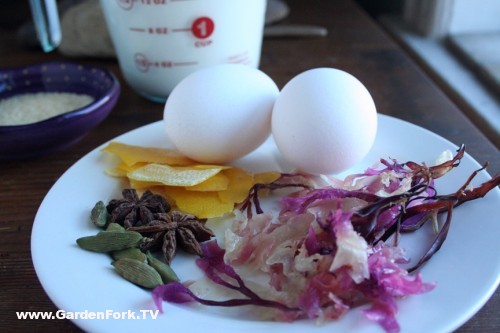 Blancmange is a very rich dessert and is best plated as small servings with a flavored syrup or treacle drizzled over the top. This recipe makes 4 small servings, double the recipe to serve more.
You'll Need:
a medium size sauce pan
a medium, and a fine mesh sieve
4 small molds or ramekins
a rubber spatula
¾ oz dried Irish moss (carrageen) or
⅓ cup after soaking and rinsing
¾ cup whole milk
½ cup cream
vanilla and almond extract
1 whole star anisette
6 cardamom pod, or ¼ teaspoon ground cardamom
sliced rind of 1 lemon
1 large egg
2 tablespoon caster sugar (fine sugar)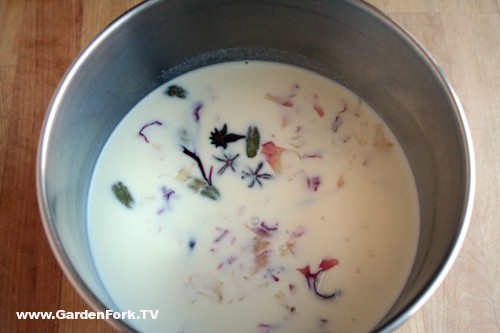 In a sauce pan, bring whole milk and cream to a boil, add washed Irish moss, lemon rind, cardamom seeds (crush the pods first), star anisette, 1 tablespoon caster sugar, and a few drops each of vanilla and almond extract. Lower heat and cover, allow to simmer for 25 to 30 minutes stirring occasionally. The Irish moss will have dissolved into the milk mixture to make a thick sauce. Remove from heat.

Strain milk mixture through a medium mesh sieve, and with the spatula gently rub any remaining Irish moss. Be careful not to grate the dense fiber into the mixture. Strain once more through a fine sieve. The liquid should be smooth and thick.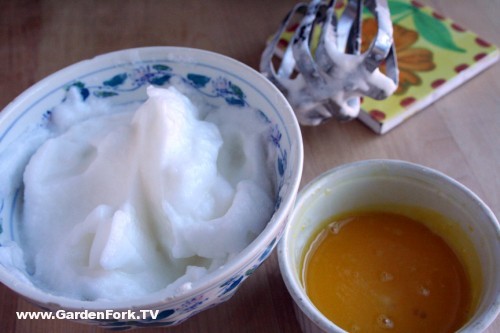 While the milk mixture is cooling down, separate egg white and egg yolk. Beat egg white until it forms stiff peeks. Add 1 tablespoon caster sugar to egg yolk and mix well. Stir egg yolk into the milk mixture with a rubber spatula, then fold egg whites in until everything is evenly incorporated.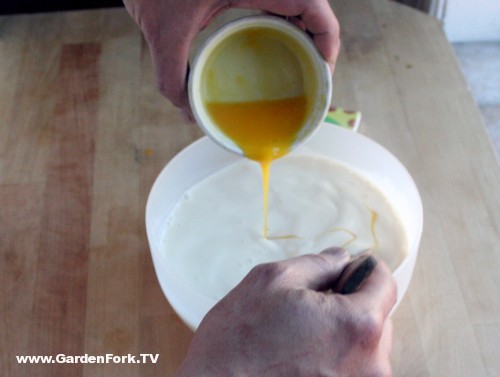 Spray each mold with water then pour mixture evenly into small decorative molds. You can also use ramekins, or small round bowls. Tap the bottoms of each mold to free any air bubbles. Set molds on an even surface in the fridge for at least four hours, or overnight. The blancmange will set into a firm custard as it chills.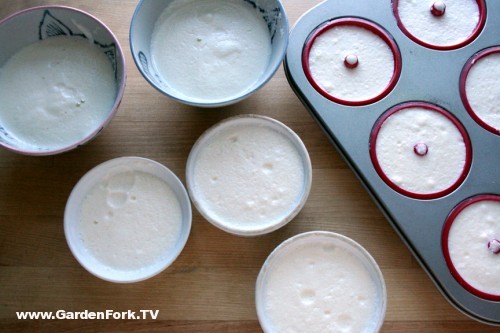 When you're ready to serve, set the molds in warm water for a few minutes. Use a sharp knife to free the edges if needed, then flip the mold over onto individual serving dishes. Heat up a little honey with strawberry or raspberry jam and drizzle it over the blancmange before serving. ©2011 all rights reserved