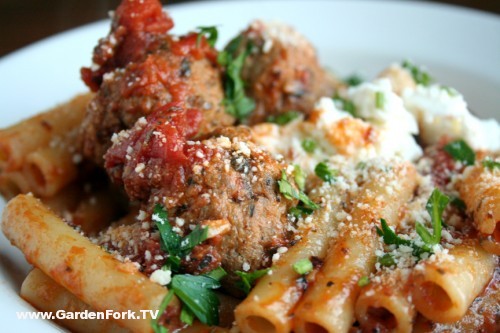 My friend Elaine's mother is the consummate southern Italian cook. Mama Lena shared her meatball recipe with me over the phone, but I had to figure out the proportion of ingredient. After a few batches I think I came close. Lena's meatball recipe makes roughly 50 small meat balls.
2 spicy Italian sausages (remove casing)
1 lbs ground beef (80/20 fat)
¼ ricotta cheese
⅛ cup grated Parmesan cheese
¼ cup unseasoned bread crumbs
¼ cup minced onion (fine)
¼ minced parsley (fine)
1 tablespoon each: dried oregano and basil
½ teaspoon salt
1 egg
¾ cup olive oil
4 cups of marinara sauce
The key to rolling perfect meatballs is a little olive oil. Also don't crowd the pan, cook in small batches (8 at at time). Mix all ingredients well with your hands, set aside for 20 minutes. Coat the palms of your hands with a little olive oil, pinch a golf ball size portion and roll into a tight ball, make enough for the week. Apply olive oil again if the meat sticks to your hands.
Heat a large saute pan and add enough marinara sauce cover half the depth of the meatballs. Add meat balls to the pan, cover and braise for 8 minutes. Turn meatballs over and braise for another 5 minutes. Set them aside and start a new batch. Add more marinara and a little water if the sauce becomes too thick. Serve meatballs with sauce over your favorite pasta with a little fresh parsley and more grated Parmesan. You can freeze meatballs without the sauce and reheat them in the oven for another meal.