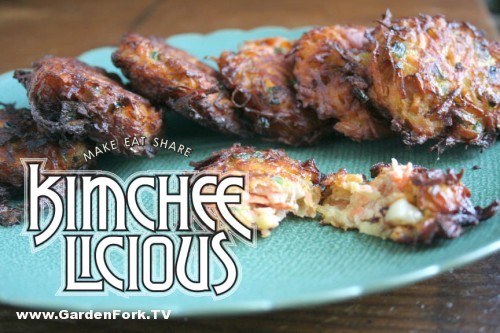 This recipe is one many that I'm developing for an cookbook project called Kimcheelicious. It's about home-fermentation and cooking with kimchi that you make in your own kitchen. I'm raising funds on Kickstarter.com to get this book off the ground.
If you like this recipe please support Kimcheelicious on Kickstarter. Fundraising ends on August 28, 2012.
http://www.kickstarter.com/projects/1906123150/kimcheelicious-puts-a-korean-pickle-on-the-america
To look at Kimcheelicious food ideas go to my Tumblr.com page:
http://kimcheelicious.tumblr.com
Cheers,
Tony Limuaco
Contributing Food Writer
Sweet Potato and Kimchi Fritter (makes roughly 20 fritters)
1 ½ cup sweet potato, grated
1 cup mashed potato (Russet or Yukon)
½ cup Napa cabbage kimchi, well drained and minced, reserve juice
½ cups onion, minced (white or Spanish)
½ cup Poblano pepper, cut into match sticks
½ cup corn starch
1 egg, beaten
2 teaspoon sugar
½ teaspoon nutmeg
1 tablespoon granulated garlic
1 tablespoon salt
2 tablespoon toasted sesame seeds or 1 tablespoon dark sesame oil (optional)
2 tablespoon coarse Korean chili (optional)
high frying oil (canola or soy)
Dipping Sauce: Mix all these ingredients together.
2 tablespoon kimchi juice
2 tablespoon soy sauce
1 teaspoon rice vinegar
2 tablespoon water
1 teaspoon honey
½ teaspoon dark sesame oil
1 clove minced garlic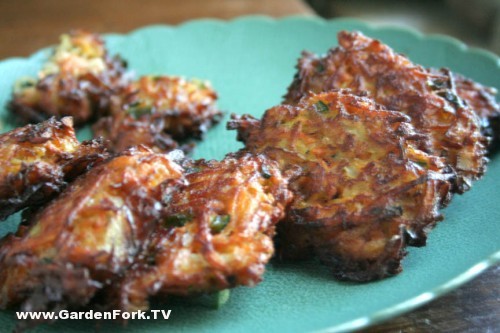 Prep: Boil potato, mash and cool. Cut pepper into matchsticks, rough 1 ½" in length. Drain kimchi well in a colander and press into a paper towel, and mince. Mince onion. Reserve the juice for sauce. Grate sweet potato. In a large bowl, combine all these with dry ingredients. Beat egg and mix everything well well. Refrigerate for 20 minutes.
In a wok or large pot, add oil to the depth of at least 2". Heat oil to 375°. You can also check the temperature with the end of a wooden spoon or a chop stick. When bubbles form around end the oil is ready for frying. Be sure to cover with a splatter screen wen frying. For larger batches: If oil starts smoking or becomes very cloudy, lower heat or allow to cool and change oil.
Scoop sweet potato batter with a large dinner spoon and pack tightly, squeeze out excess juice as you form a fritter. Drop into hot oil. Fry no more than 6 to 8 fritters at at time, allowing 3 minutes on each side or until the fritters are crisp and golden. Drain well on a rack or paper towels. If serving later keep warm in oven at a low temperature (100°). Serve while they're crisp and hot with dipping sauce.
You can freeze in batches for future meals. Freezing actually preserves flavor and nutrients such as vitamins A and B. To prevent them from freezing into a large boulder, freeze them individually first. Form fritters and place them onto tray with at least 1" of space between. Put them in the freezer for about two and a half hours then put them into a large freezer bag. Deep fry as instructed above.