Build this homemade brick pizza oven in your backyard with recycled used clay bricks and a recycled metal mattress frame. And the pizza oven is portable! You can assemble this in 20 minutes, make homemade pizzas, then take it apart and store it. Most backyard pizza ovens are big and permanent, this homemade brick oven is great because its easy to break down again until your next pizza baking party.Here are the pizza oven plans shown in photos, our oven uses used clay brick and 24" angle iron we cut from a old bed frame. You have to heat up the oven for an hour to get it up to temperature. The brick pizza oven has to be on sturdy sawhorses or cement blocks. We used cement tile board to insulate the plywood table from the heat of the brick oven. Stuart, author of the Bread Oven book, emailed us, cautioning that he felt the 2 layers of cement tile board was not enough insulation to keep the plywood from scorching, he suggests a base of cement, as shown on his blog here.
Clean the bricks that will be used for the floor of the oven, that's where your pizza dough will be sitting. We didn't have a thermometer, but I'm told the floor of the brick oven can reach 700F. We also found its good to keep some of the coals in the front part of the oven, so the heat is more even. We had to turn the pizza once during baking to have it cook evenly.
I have a few ideas for more modifications, which we will post later on. Keep children and animals away from this and all fires, this is for adults.

More Pizza Oven Plan Photos Here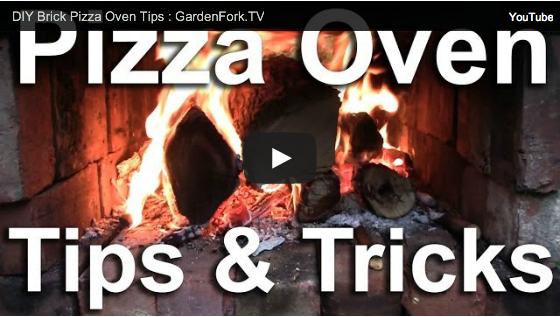 Watch all of our  pizza oven and pizza dough recipes here
Our backyard pizza oven is based on one in the book Bread , Earth, & Fire by Stuart Silverstein. Stuart's book has a bunch of plans and info on building backyard ovens, go buy it here. it is available as an ebook or paperback. Read Stuart's blog here.