I'm trying to cook more from the refrigerator, as I always have something in there I can cook with. If I was more organized I could plan dinners, but that happens rarely. Instead I keep a stock of stuff I like to cook with, and go from there. But the fridge was looking kinda empty and there was this half a cabbage in there with some apples that were going soft.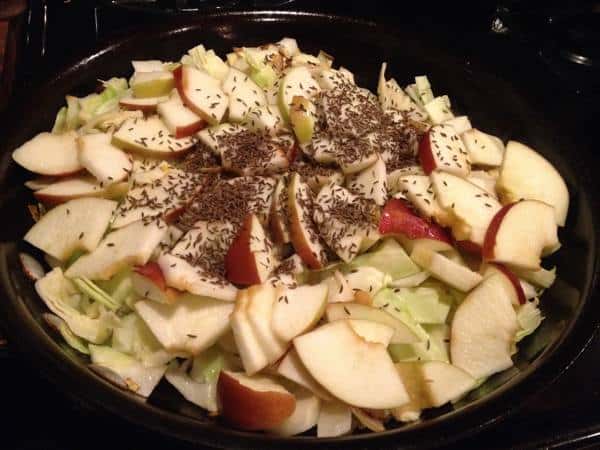 So I put some chopped onion into the pan and then added in the apple and cabbage. The apples will disappear in the mix, adding that applesauce kind of taste to the dish. I remembered from a Facebook conversation we had awhile ago, some people suggested caraway seed, and I had that from a bread baking experiment.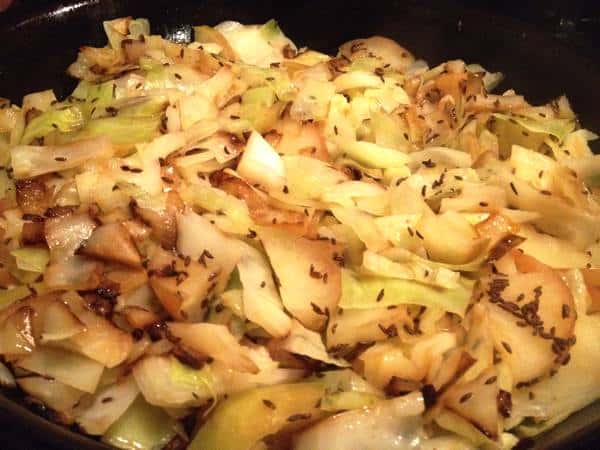 I first covered the pan of cabbage to let it steam and break down the leaves a bit. This also softened the apples. And I could walk around doing other stuff, as the water that sweats out keeps the pan from burning. After the cabbage has broken down nicely you can remove the lid and let it start to brown.
I read recently where you shouldn't let cabbage cook too long or it will have a mustardy smell, I have not experienced that.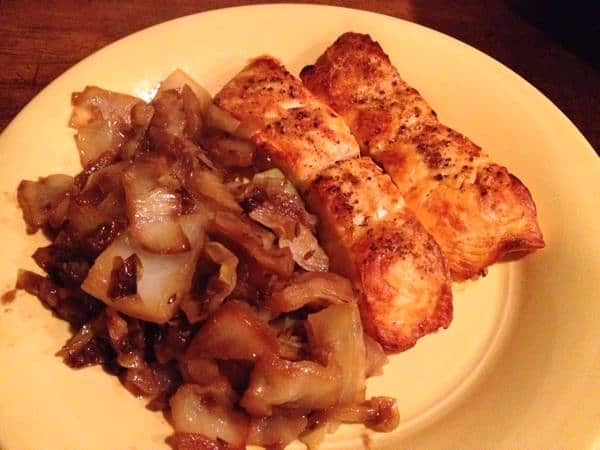 I always keep frozen salmon in the freezer. It defrosts quickly using our How To Defrost Meat Quickly video technique. I put it under the broiler for a few minutes. I am good at over-cooking salmon, so I have to focus, which can be a challenge.
Cabbage With Apples Recipe
½ head cabbage, chopped up
2 apples, sliced with skin on, its OK if they are soft
1 medium onion, roughly chopped up
2 teaspoons caraway seeds.
Put a few glugs of oil into your pan. You want the whole pan to be covered with about ⅛" of oil.
Drop in the onions and cook down a bit until you can they become kinda transparent.
Add in the cabbage and the apples, scatter some salt on it, mix it all up, and cover.
Set on medium or low heat, depending on how your stove works. You want the dish to steam-cook, not burn.
Give the dish a stir every 5 minutes or so, chopping up any hunks of cabbage.
When the cabbage has broken down to your liking, take off the lid and brown the cabbage.
Taste for salt, it may need more, and then you're done.