You are wondering, can I eat this mushroom? Is this mushroom edible? Watch this video to find out.
First, be very careful with mushrooms. That said, there are a bunch of mushroom that are safe to eat and easy to identify. Today we will learn how to identify the oyster mushroom.
So, Can I Eat This Mushroom?
There are several ways to learn about identifying mushrooms.
The best way is to learn from someone who already knows. Find a mentor or take a class. Search for your local mycological society or mushroom foraging group.
Another good way is to use several mushroom guidebooks. Look up the mushroom you are researching in each of the books, see what they all say about the one in your hand. I have several mushroom books, here is a post I wrote about the ones I use.
When identifying mushrooms pay attention to the following:
What kind of tree or soil it is growing in.
Where on the tree it is growing. Roots, trunk, etc.
Weather conditions
Color and size of mushroom
What kind of gills and stem it has, or no gills at all
The guidebooks I use have great detailed information on each mushroom, and by combining the info from several books, you can start to learn to identify edible mushrooms. If you are not sure, ask a friend who knows, or find a mushroom group online and post a photo with information there.
If you are not absolutely sure, do not eat it.
But I think, after some study and learning you will be able to answer the question: Can I eat this mushroom?

If you want to learn about other wild foods in the woods, check out my post on good guidebooks for foraging: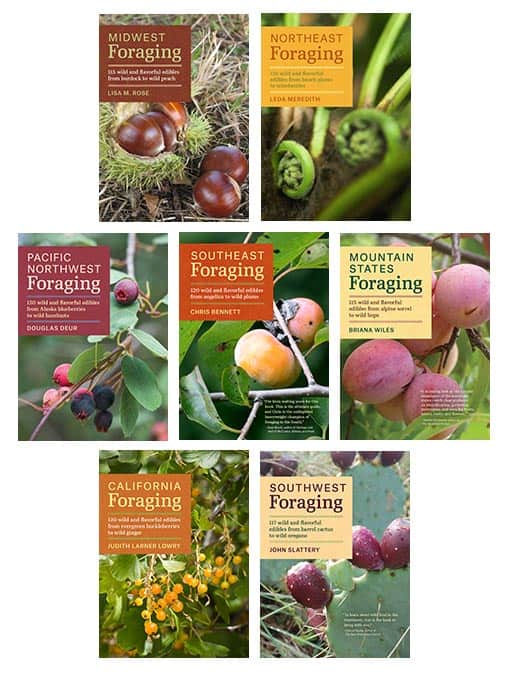 Video transcription:
Are you wondering like I'm wondering, what are these, and can we eat 'em? Ready? Let's go. I'm gonna be back in a minute, okay? Did you see, what I see? I gotta go get a bag, hold on. The girls are in here. Hello my knuckleheads. She has pneumonia. Anyway, you stay here. It is almost Thanksgiving. I know, yuppie bag.
It's frosted here several times, the ground is frozen about three inches. Actually, I just shot a video about digging up potatoes out of my frozen potato bed and I just drove by that. I think these are Oyster Mushrooms. The question is, can we eat them? First let's make sure they're mushroom, but also since it's frosted last night, the bottom part of this is cold. And, we'll let's take some off and see.
See there, well you can't really see but they are in there. It is, it like crunches when you're taking it off. And that is cold and hard. But look at that. They feel a little leathery, rubbery. Some of these are past their prime. That's just, that's gone. That's gone, but man, that smells, that's an amazing smell. I just love that smell of woodsy mushrooms.
Oh wow. These look like they fruited a little later than the ones over there. This is a Maple, probably a Sugar Maple, because I'm in the land of Sugar Maples, but see the snow? Here? So there's definitely been some frost. Can you eat a frozen mushroom? We're gonna find out. This is just, I'm very excited as you can tell. That's definitely frozen. I'm wondering whether this will turn to mush or not. I mean, . I'm all about, hey let's try this, and see what happens.
So that's what we're gonna do. All right, finish some harvesting here. So, I've left a bunch here. I don't know if the spore will travel with this kind of weather conditions, it's supposed to rain later, it's like 32 and a half degrees out, just above freezing. So I have some, and I always leave some, I think that karma is boomerang that way, but still, a nice harvest. We're gonna identify these and then if they're an edible one we're going to cook them. Here's the rub though. I have to go back to New York City today. We love in Brooklyn during the week, so we're gonna take these and we're gonna mushroom road trip to Brooklyn, identify 'em and cook 'em. Ready? Here we go.
Look where we are? The Brooklyn Museum, no, the Brooklyn Library. Says right there. So, before you eat mushrooms, you need to identify them, and this is me trying to get you to go to your library and also learn about identifying mushrooms and also seeing if Eric can eat these mushrooms. So, in here is some knowledge. Here we go. Phone booth. We got our books. There's Grand Army Plaza. I used to live right near here and then I moved. So, it's kinda fun to be back. But the library, just go to your library. It is amazing. I kinda got lost in the stacks there and I was like gonna check out too many books and I forgot my knapsack and that's more information than you need to know, so let's go, let's go see if we can eat these mushrooms. And then cook them. So stay for that bonus round of cooking.
So some of these are looking a little aged, they're looking a little old but you can still eat 'em, they're just not gonna be like wow, but still it's wow that you got these from the woods and wow that we're gonna identify 'em. I just said you could eat them, and we don't know that yet. Strike that, okay? What are you thinking about mushrooms, yeah? Is that exciting? Not too excited huh? Yeah.
So how did I learn about mushroom foraging? It's, I think the way a lot of people do, I actually went with a conservation group in the next town and they had these two mycology experts in the woods and we walked around and we discovered different kinds of mushrooms that were edible and the other ones to watch out for, which I think is great. So learning from another person, learning from an expert, is really the best way. Like a mentoring.
You want to read the book with me? You can't eat the book, okay? Another way is through guidebooks. I will link to all the guidebooks that I use, again you don't have to buy them, you could just get them from the library, like this really good one with a chapter on Oyster Mushroom. So with all the information we've garnered from our guidebooks, looking, smelling, observing where it was growing, how we harvested it, what did it look like, stacked kinda like this, my vote is that these are edible. So let's try this, see what happens.
Is that really a good phrase for mushrooming? I don't know about that.
I don't like to slice mushrooms, I just like to tear them into pieces, well, maybe bigger pieces than that but I kinda like, I just like tearing them rather than cutting them. Cutting is too uniform and that's not Garden Fork. All right, these. Smells pretty good, let's see if it's edible. All right, the great moment. Will I live or will I die? Let's see here. Tastes like a mushroom. Tastes like a winner to me. Let's you and I continue our mushroom journey here, I have some more mushroom videos should be floating right here, so I will see you in the next video. I'm gonna eat these mushrooms.