This post may contain affiliate links, it helps us pay the bills, more info here.
In this video, learn how to maintain your snow blower with 5 tips anyone can do. Get your machine prepared for winter before it snows, and your blower will start on the first pull. Watch the video then read through the post for more information:
Watch my Troy-Bilt Snow Blower Review video here. Here is more info on the Troy-Bilt XP 2690. Troy-Bilt is a sponsor of GardenFork.
5 Tips For To Maintain Your Snowblower
First! Disconnect the spark plug cable before doing maintenance on your snowblower.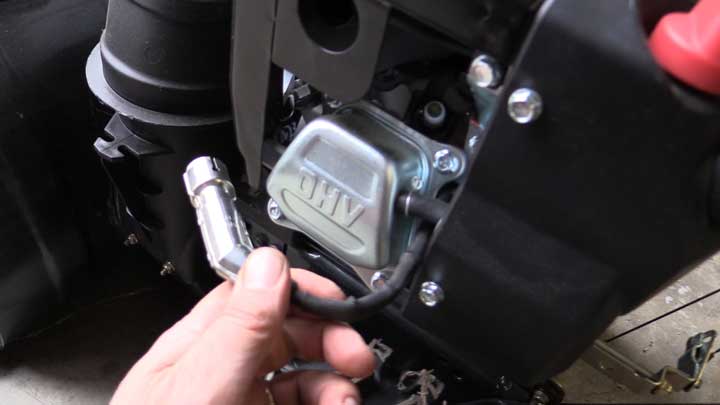 Bad gas is the most neglected part of maintaining a snowblower. Regular gas has ethanol in it, which wreaks havoc with small engine carburetors. Then your machine sits all summer and the ethanol gums up your carburetor. Fuel stabilizer neutralizes the ethanol. Pour it into all your gas storage containers according to the label directions. My machines always start because I used stabilizer. I use Sta-Bil, but the blue stuff works as well.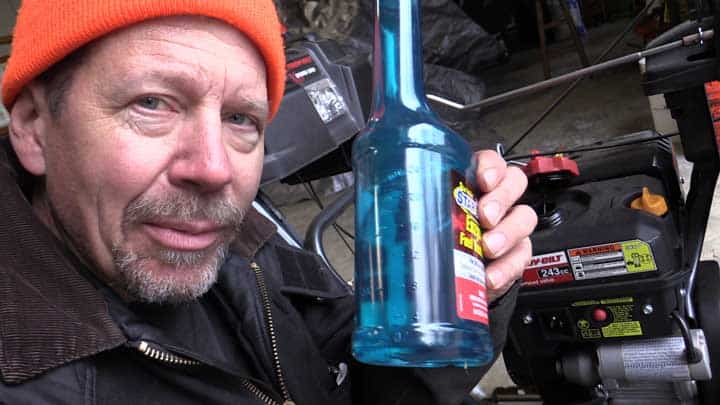 Make sure your tires are good. If they are deflated, you may have a bad tire valve or the tire bead is not sealing. If the tire sidewall has cracks, its probably time to get new tires. Big Hint: do this in the summer, so when there is 12" of snow outside, you don't have any unhappy surprises.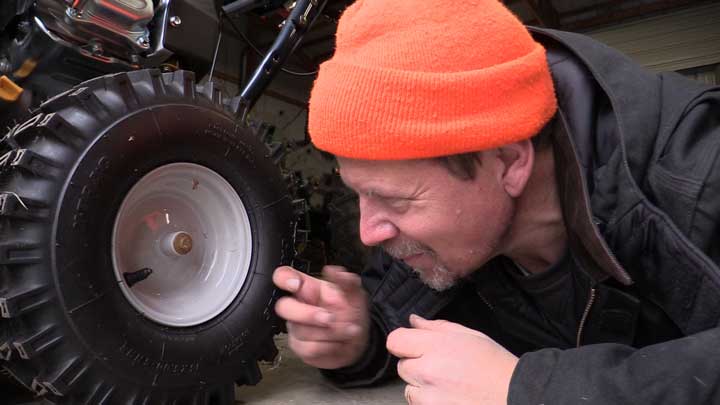 Adjust the shearplate. This doesn't get talked about with snowblower maintenance, but its important. The shearplate is on the bottom of the snowblower, and it needs to ride just above the driveway pavement or concrete.
Often it is adjusted too high or it scrapes along as you blow snow. For asphalt and concrete driveways, it should be the width of a piece of cardboard above the surface of the driveway. Use the skid shoes on the sides to adjust this height.
If you are snowblowing a gravel driveway, adjust the shearplate so there is more of a gap between it and the road surface. That way you throw out fewer pieces of gravel.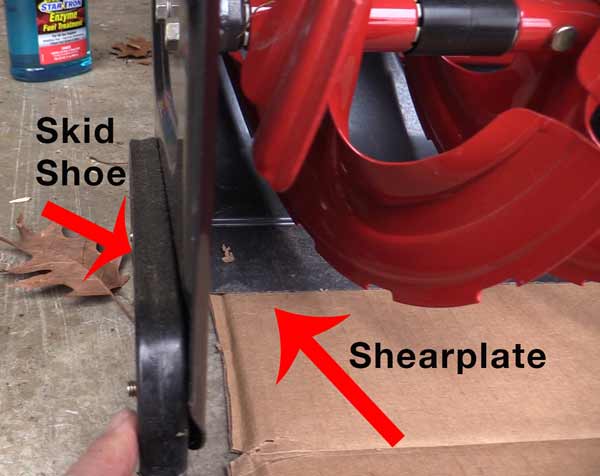 Buy some shear pins, they break. Shear pins are metal pins that break in two when something jams in the snow auger. These pins are designed to shear, preventing damage to the gear box and drive shaft. They are cheap, so keep a few on hand. Of course, these will break when you are clearing snow late at night. Save your machine next time it inhales one of your kid's toys.
One Tip To Maintain Your Snowblower Year Round
Put mothballs around the engine of your machine, it is one of the best way to maintain a snowblower. If a mouse builds a nest in your engine, it is a huge pain to fix. Mice eat the wires in your engine - not sure why - so do this. Put mothballs in a metal can with holes punched in it with a can opener, or buy the mothballs in a perforated bag.