Rick tells of how he tried to change the headlight bulbs on his Toyota Prius, and how it all ended up a the mechanic's garage instead. We learn when its time to call the professional and walk away from a DIY repair.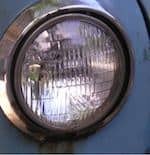 Eric has been watching great car repair videos by Eric The Car Guy on YouTube, lots of great car repair how to videos done well. We learned that we will not attempt to change the struts on our car, we will take it to the experts who have the right tools. Eric the Car Guy also has a website and discussion forum on his site here.
We read a letter from GF team member Kent, or at least Eric tries to read the letter, mangling several sentences.