An easy tomato recipe to use up some of those giant beefsteak tomatoes that doesn't involve making a salad or a BLT. Grill big tomato slices, make a cream sauce, add in spinach, top with cheese, and you've got a nice appetizer or side dish. This recipe comes from GF viewer Marcus, who sent us a nice note about his friends food blog, Cheater Chef, and this recipe.

Be sure to oil the grill grates after preheating your grill, take a paper towel with vegetable oil and use tongs to apply the oil from the towel onto the grates. I use a propane grill for this easy tomato recipe, be sure to heat it up, mine takes a while, mbe your grill doesn't. A charcoal grill will heat these up quickly.
You can also use the broiler of your oven to make these, ideally one would put a grate into a baking sheet so the tomato slices sit above the pan. I think many people forget about the broiler function of their ovens, restaurants use the broiler all the time, we should use it more too.
The original recipe calls for using heavy cream, and this appetizer or side dish is quite rich with the sauce, I think you can use half and half or even whole milk and dial down the richness a bit, the tomatoes will do just fine. I like a sharp cheddar for this, but use what you got, Mozzarella would work, but also some drier cheeses too, like Emmenthaler.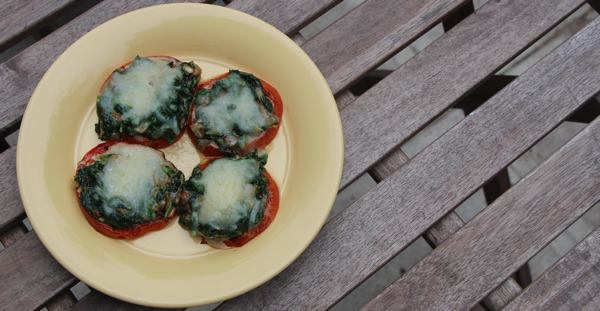 Easy Tomato Recipe
Grilled Tomatoes with Spinach & Cheese, based on the recipe by Cheater Chef
1 large beefsteak tomato, nice and ripe.
1 bag or large bunch of spinach, about a 1 pound bag would work
small onion or half of a larger onion, chopped up fine
½ cup half/half or whole milk, your choice
1 clove garlic minced, depending on how much garlic you want.
Butter for the pan
2 cups grated sharp cheddar cheese
• Preheat your grill
• Slice the tomato into half inch slices, oil the grill grates carefully, and place slices on grill, close grill cover
• Chop spinach, discarding large stems, and microwave on high for about 3 minutes, you want it to wilt, but not overcook.
• Melt butter in fry pan,  and add chopped onions, cook them down until starting to brown.
• Add garlic, be sure to get the garlic to grown a bit too.
• Go check on slices grilling, turn them when they are starting to have grill marks
• Add half/half or whole milk to the pan and let it thicken, don't burn it like I did.
• Toss in cooked spinach and bring cream sauce out to grill
• Turn slices if you haven't done so already, and place a big spoonful of the cream sauce on each slice
• Top with cheese, and close grill to allow the cheese to melt. Don't walk away from the grill right now.
• When the cheese is melted, the dish is ready.
Do you grill tomatoes? Let us know below: