Simple apple pie recipe hack, this apple galette is much easier to make than a proper apple pie, and tastes and looks just as good. Call it Rustic Apple Pie. Watch the video and check out the recipe below.

We've done a few galette recipes already, and we'll be doing more, as the form is versatile. Its kinda like a pie tart shell, you can put all sorts of stuff in it, be it sweet or savory. Sign up for our email newsletter to be in the know when we post them.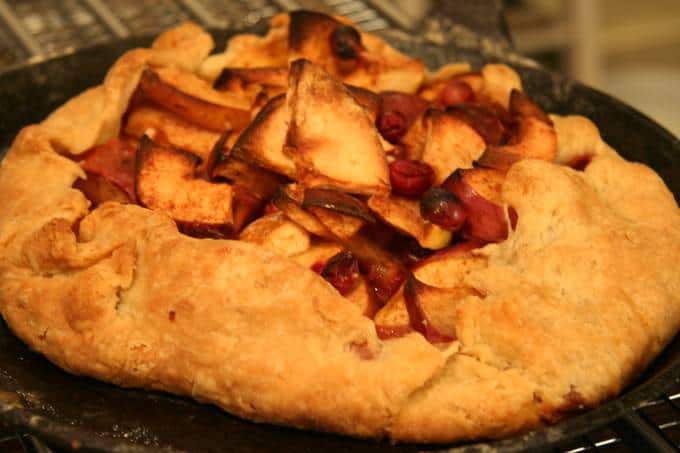 I call this a cheater apple pie, because its similar to an apple pie recipe, but is less fussy. Roll out dough, drop in fruit, bake, done. Apple pie seems more involved, but we'll make those too. Now I have ideas for pie in my head. Do you? Let me know below.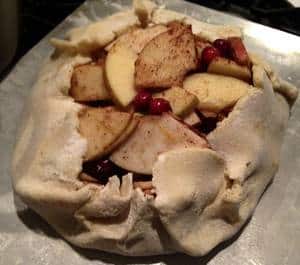 This galette is a low sugar version, a sprinkle of sugar is all I added, and it was fine. I used dried cranberries and learned that its best to have the cranberries tucked under the apples on top of the galette, else they get too crunchy from the oven heat. You could use other dried fruits, but I think we need to eat more cranberries.
Don't sweat the pie crust! It's not rocket science to make a decent crust. Be sure to put the pie dough in the fridge for a while to let it set up. A key ingredient in my pie crust is sugar. It adds a bit of sweetness and crunch to the crust, this same crust would make good rugelach, you know. Have to work on that one. My grandmother made those every Christmas.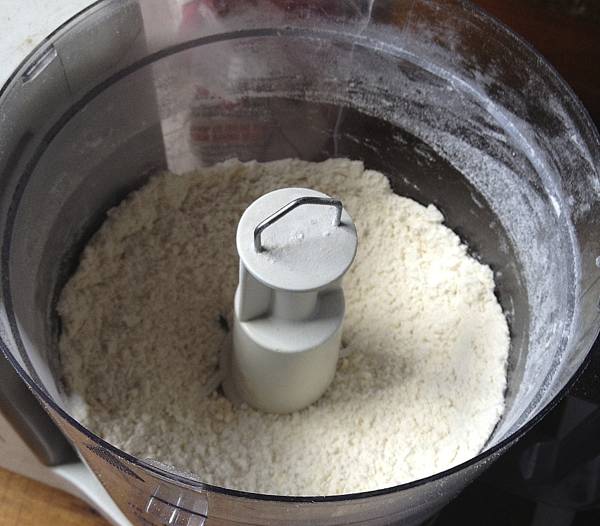 The apples in this galette get soft, but don't break down and go mushy, its baked apple slices and cranberries, and goes well with a bit of vanilla ice cream. Some liquid may leak out the side, but that's ok. Best to bake this on a lined cookie sheet or a greased cast iron flat skillet just in case.
I used Fuji apples for this, and use my fav apple corer, it makes the prep go fast, I think.
Cheater Apple Pie Recipe, aka The Apple Galette
Author:
Prep time:
Cook time:
Total time:
A simpler version of apple pie, the apple galette is a open faced rustic crust pastry that you can add all sorts of fruits to. Today we use apples and cranberries
Ingredients
3-5 apples cored and sliced - if the apples are small use more apples.
1 cup of dried cranberries
1-2 tablespoons sugar
1 tablespoon lemon juice
lemon zest
1 ½ tablespoons cornstarch
1 stick of unsalted butter – cold
1 ¼ cups all purpose flour
1 tablespoon sugar
½ teaspoon salt
ice water
Instructions
If possible, make the pie crust a few hours beforehand, or the day before:
Cut the stick of cold butter into ½" cubes, and place in food processor.
Add the flour and sugar and salt.
Pulse the processor until the flour and butter have cut together. it looks kinda like lumpy cornmeal. if you're not sure, make sure all the butter cubes have been mixed into the flour.
Put this dough in to a bowl, and add ice cold water a few tablespoons at a time. mix the water into the dough until the dough can form a ball. Don't add too much water and make the dough sticky. If you do, add some more flour to the dough.
Place this dough onto some plastic wrap, shape it into a large hockey puck, and put in the freezer for 10 minutes, or the fridge for 30 minutes. The longer it is in the fridge , the better the dough gets, I think.
Combine in a bowl the apple slices, lemon, sugar, zest, cornstarch, and cranberries. Mix together.
Roll out the dough on a floured board, you want it about 14" in diameter, about ¼-1/8" thick.
Place the pie dough onto a greased cast iron pan or cookie sheet.
Pour the apples into the center of the crust and pull up the sides onto the pile, pinching the dough together to hold it up. Slip any exposed cranberries underneath some apples.
Bake at 400 for about 35-40 minutes. The apples will not break down, but will be soft.