This is a great recipe for all those cherry tomatoes you have at the end of the season. This dish is sort of a cherry tomato salad over pasta. I don't think this dish needs cheese, but if you do, go ahead.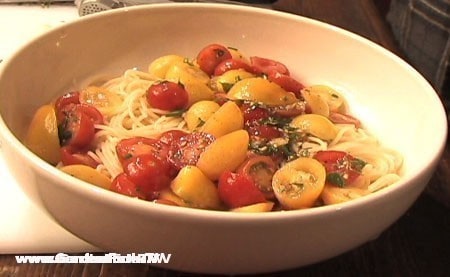 Cherry Tomato Pasta Recipe
3 pints of cherry tomatoes ( about 4 good handfuls )
Red Wine Vinegar
Extra Virgin Olive Oil
1 handful of Fresh Garden Herbs: oregano, chives, thyme, rosemary
1 lb spaghetti or other pasta shape you like. I use the thin spaghetti
Put the water on the stove to boil, go out to the garden and pick tomatoes.
Add pasta to pot and cook to taste.
While pasta is cooking, slice all the tomatoes in half, place in a bowl.
Chop the fresh herbs, add to tomatoes.
Add about 3 tablespoons of olive oil to the bowl
Add about 1 tablespoon of red wine vinegar
with your hand, mix the dressing into the tomatoes, and squish some of the tomatoes at the same time, so their juices come out and mingle with the oil and vinegar. Add salt and pepper to taste.
Put colander into a serving bowl, place in sink. When pasta is cooked, pour pasta into colander. [ the hot water will warm the serving bowl as it drains ]
Remove colander and drain hot water from serving bowl. Put pasta in the serving bowl and pour tomatoes over pasta.
©2007 eric rochow all rights reserved
Due to spam, comments have been turned off, please visit The Greenhouse to share your thoughts.