When I was a kid, ( wow, not used to saying that too often ) we would be in the yard or the woods whenever we were home and there was daylight. Now, it seems that kids lives are over-scheduled.
My friend Tyler Allison, a contributor to Gardenfork, brought to my attention a book, Last Child in the Woods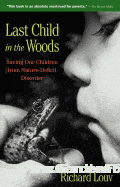 Today's kids are increasingly disconnected from the natural world, says child advocacy expert Louv (Childhood's Future; Fatherlove; etc.), even as research shows that "thoughtful exposure of youngsters to nature can... be a powerful form of therapy for attention-deficit disorder and other maladies." Instead of passing summer months hiking, swimming and telling stories around the campfire, children these days are more likely to attend computer camps or weight-loss camps: as a result, Louv says, they've come to think of nature as more of an abstraction than a reality. Indeed, a 2002 British study reported that eight-year-olds could identify Pokémon characters far more easily than they could name "otter, beetle, and oak tree." Gathering thoughts from parents, teachers, researchers, environmentalists and other concerned parties, Louv argues for a return to an awareness of and appreciation for the natural world. Not only can nature teach kids science and nurture their creativity, he says, nature needs its children: where else will its future stewards come from? Louv's book is a call to action, full of warnings—but also full of ideas for change. [Publishers Weekly]
One reviewer on Librarything.com summed it up this way: "Leave no child inside"