A cherry tomato recipe that is a new one to me: Cherry Tomato Pesto. I heard about this from Lidia Bastianich, who was interviewed on ATK Radio and mentioned it. I was surprised at how well it turned out, never had I thought of making pesto this way before. What fun to have a new and unique cherry tomato recipe just in time for the tomato overflow from the garden.
Another interesting ingredient in this pesto recipe is the use of almonds, which i had not thought of before but now seems so obvious. One thing I did learn while working on this recipe was that the almonds need to be ground up in the food processor before adding in the rest of the ingredients. Just dumping them in with the tomatoes doesn't work, as the almonds are still pretty chunky when the rest of the ingredients have been mixed together.
Basil does play a role here, but you could also use parsley, both work well when paired with tomato. I imagine you have both growing in your garden somewhere near the cherry tomatoes, do a mix of the two if you like.
And do not use cheap olive oil for a pesto recipe, use the best you can get, or almost the best. There are a lot of adulterated olive oils out there, you can check out Truth In Olive Oil for a list of good olive oils you can buy in your area.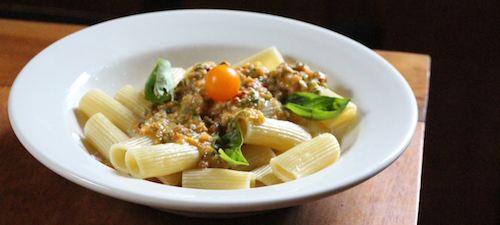 Not your usual Cherry Tomato Recipe
Cherry Tomato Pesto Recipe  based on Lidia Bastianich's recipe
1 pint cherry tomatoes, not the super sweet kind, a mix is good.
¾ cup grated Pecorino Romano cheese, buy a wedge and grate it yourself
Approx 1 cup Extra Virgin Olive Oil
¾ cup raw almonds, not salted or roasted, but you could use the salt-roast kind in a pinch
1 medium clove of garlic, smashed or minced
1 small handful of basil leaves and young stems
Mince of smash the garlic and let it sit out while you prepare the rest of the ingredients.
Put the almonds in a dry saute pan on the stove, and toast lightly. Be careful not to burn them. The almonds will click when its time to turn them.
Grate the Pecorino Romano cheese with the large holes of a box grater.
Pull the basil leaves and young stems from the woody older stems.
Put the toasted almonds in the food process and break them down to small chunks and some powder
Add the cherry tomatoes, cheese, garlic, basil.
Turn on the food processor and mix this all together, be careful not to over process, you want this to have some texture.
Slowly drizzle the olive oil into the food processor as it mixed the ingredients together. The pesto will thicken a bit.
Test for salt, it may or may not need some.
Do you have a favorite cherry tomato recipe? Let us know below!