I saw this simple compost tumbler made out of recycled materials at a gardening display at the St Louis airport. This easy compost maker is made of 2x4s and a used barrel. Wondering how to make compost? This barrel composter makes it easy.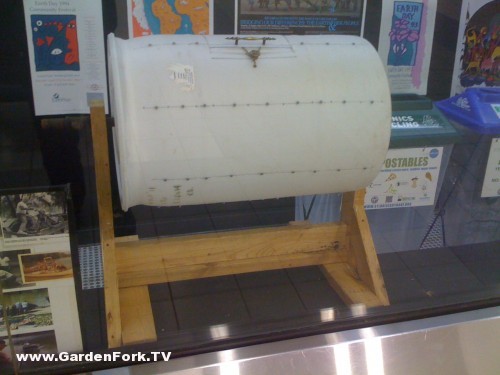 Compost piles need to be turned and aerated, compost that sits in compost bin needs to be turned upside down, basically. This compost tumbler does that for you, so you don't have to break your back bending a lot. The limitation is the size of the barrel, but i'm thinking this would be a great kitchen composter. It would be even better to have two of these composters in the yard, fill up one, and just turn it every few days to allow it to cook down, and use the other one for your fresh compost materials.
I've found it helpful to use some compost 'starter' in a new compost bin. All this is is some finished compost from one of your other bins, just throw a shovel full into the newest material to jump start the composting process. Fresh manure also works well as a compost starter, be sure to let the manure cool down before using that compost in the garden.
This barrel composter uses a few pieces of pipe to attach the barrel to the stand, but other than that, I bet you could get all the materials out of a dumpster.
Have a barrel composter? let us know how it works for you, maybe share a picture?