While visiting my family I am always in the workshop fixing something. My dad's workshop is like mine, semi-managed chaos. There are many projects scattered in various stages of completion, some have been there a few years. There are bits and parts of things you can't bear to throw away, thinking you might be able to use them for something one day. There are still things in dad's workshop from when I was a kid, a pair of garden tractor tires for some sort of cart we have yet to build, but those tires will be good for something.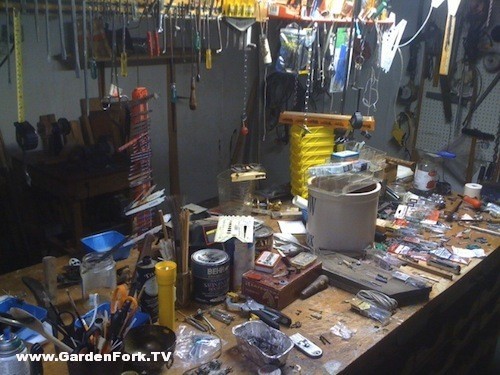 Then there is my sister's workshop. Immaculate and organized, one project at a time on the workbench, which is a recycled kitchen countertop and cabinets. [ we made a Real World Green video about making this work bench here ] The shelves have nails and screws in plastic storage bins with the actual screw length information present. The screw gun's batteries fully charged, tools on the pegboard.
I still struggle with organization. I'm close to hiring someone to come in and organize the place. The trick is to keep it that way. Its hard to part with stuff that may have a use some day. The anxiety of knowing that a year from now I will need those small ikea counter brackets left over from a job to hold together some wood frame i'm building, but I already have a ton of brackets.
What do you do to deal with the workshop chaos? Are you the organizer or the keeper of stuff?