I did this custom DIY dishwasher installation so it fit into existing cabinets at a friend's apartment. There wasn't a space for a dishwasher in the kitchen and we made a space in a creative way. Maybe we'll call it an unusual way, actually. If you'd like to see how to connect the electric, water, and drain lines, see my video on how to hook up a dishwasher.
In small kitchens, I often see those narrow dishwashers that you don't see in most homes. They are common in apartments, and might be good for a tiny house too. Our plan here was to remove one of the cabinets and slide in a small dishwasher.
I call this a custom DIY dishwasher installation is because it wasn't as simple as removing a kitchen cabinet and sliding in a dishwasher. I had to install a dishwasher into existing kitchen cabinets. The cabinet under the sink was one unit, so I had to be creative in figuring out how to make space for the dishwasher.
I did this by cutting off about ⅓ of the base cabinet. This isn't your usual install, it was a challenge, but it was fun. Key here was cutting real straight lines, not the easiest thing to do on site. But we did pretty good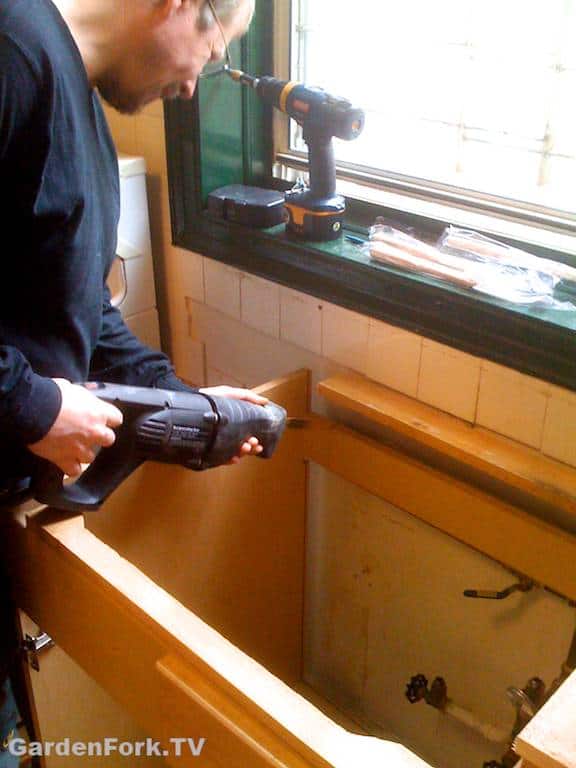 I removed the left cabinet door, pulled off the counter and sink. This involved shutting off the water in the kitchen, disconnecting the drain pipe, and the water lines going to the sink. This is always an adventure when climbing under a sink. The shut off valves don't always work, and once you turn them, they can break. Then you are toast.
Thankfully the shut off valves were fairly new, so turn them off and then don't look at them.
I cut the lateral supports where we were to slide in the dishwasher, and moved the side of the sink cabinet unit to the right. Basically shortening the width of the sink unit. Some brackets and screws put the cabinet back together.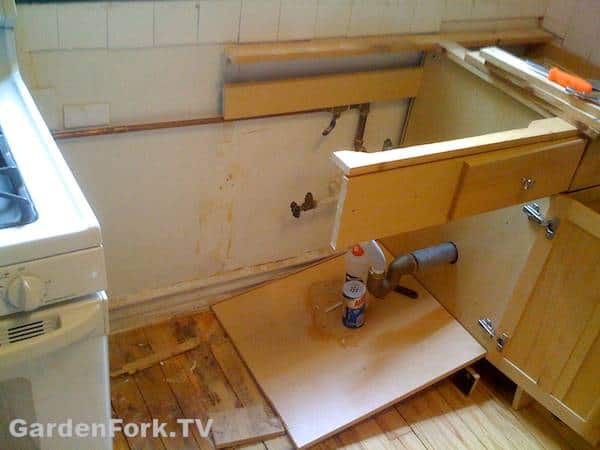 The tricky part was then I moved the left side wall of the sink unit, I had to make sure the hinges on that wall were level with the hinges they were across from. Somehow this all came together fairly easily. Sometimes I am lucky. Sometimes I am toast. Today no toast.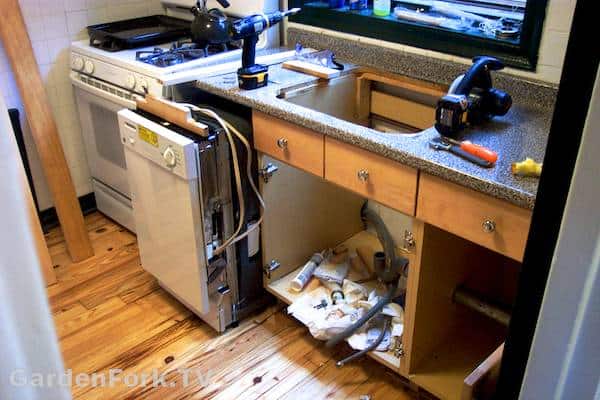 I slid in the dishwasher, remembering to slide in the feed and drain hoses beforehand, as well as the power cord. There was an outlet behind the stove, so we were good there.
My friend was very happy, and it was fun to do. What do you think?