This is an easy one. My flash drive recommendation has to have three things that I need to be able to work efficiently.
Large capacity storage - I shoot in HD video
Fast Throughput - the time it takes to copy a file
Protection - not just a cap that falls off
I need a flash drive to be able to shoot video in the yard, copy it to my laptop and edit it, and then bring those video files back to the office and put the editing project and the media files onto one of our media hard drives.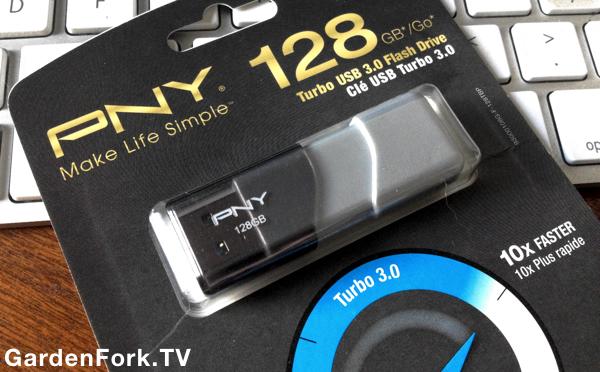 I recently bought a PNY 128 GB Flash Drive, and its a great choice for me, and probably you as well.
This flash drive uses USB 3.0, which is the data transfer protocol I've switched to after having problems with Firewire 800 and some of our hard drives. 3.0 is fast! You will like it, its not like watching pain dry as you copy files, it just zooms through it.
This PNY has a sliding plastic cover to protect the USB connector, its slides up and covers it. I've lost a bunch of those caps that come with some flash drives. You probably realize this is an issue with me, right?
The thumb drive also has a hole in the side where you can slide it onto a key ring, a nice touch. Be sure not to let a thumb drive with a bunch of keys on it hang off a computer or laptop, OK?
I have bought other memory products from PNY and they were good purchases. No drive failures or memory issues with their products. My own memory is another story, but mbe we'll have artificial memory capacity for our  own brains soon. Insert a thumb drive into a slot behind my ear...
So my flash drive recommendation is this PNY 128 GB Flash Drive. It's working for me, and it will work for you.