How do you cut down a tree with a chain saw? Watch this GardenFork video. Watch us cut down a tree with a chainsaw safely. Be very careful when using a chainsaw or tree felling, if you don't know what you are doing, hire a professional.
Tree felling like this is pretty straightforward, there were no houses nearby, and the tree was already leaning the way we wanted it to drop. The wedge cut was fairly shallow, and the back cut was a bit off, it should have been a more straight cut just above the wedge cut.
Going forward, we will be using more plastic wedges, which are driven into the back cut as the cut goes deeper into the tree. The wedges keep the tree from binding the saw, and help to push it in the direction you want it to drop. Do not use metal wedges. The metal wedges can damage the chain of your chain saw if they come into contact with each other.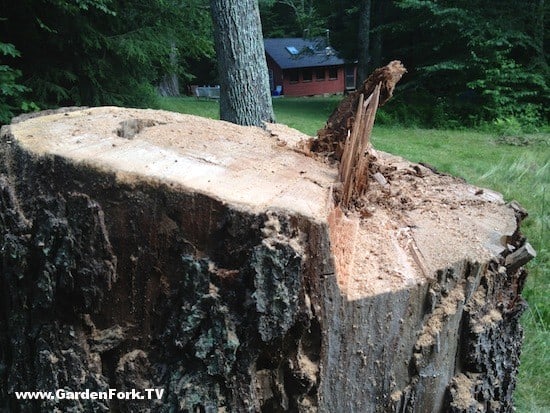 And again, safety is paramount here, watch all our how to chainsaw safely videos here. Chain saw chaps are a must, I recently saved my leg from a nasty cut from the chainsaw because I had chainsaw chaps on. The chaps have a material in them that will bind the saw if the saw tears open the chaps, which are protecting your legs.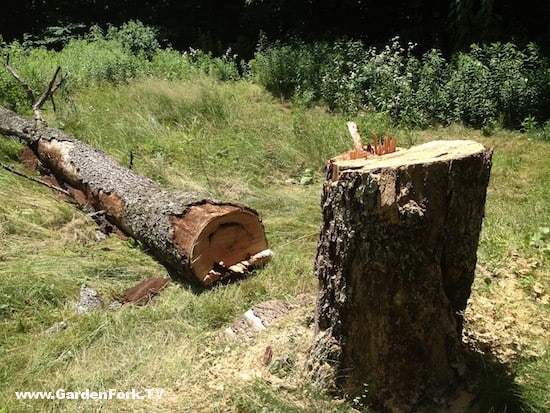 I use an all in one helmet that has a face shield and ear protection, plus i wear steel toed boots, long sleeves, and gloves. Be Careful OK?
Click here to watch all our chainsaw vids and related posts here
Let me know any questions or comments below: