This post may contain affiliate links, it helps us pay the bills, more info here.
How to keep the house cool without AC, or reduce your use of the air conditioning, with these simple ways to cool the house. An emphasis on simple ways to keep the house cool is the theme here. Cooking in the early morning, cooking outside, keeping the shades drawn are a few of the ways to keep your house cool.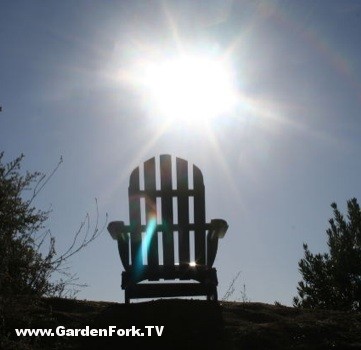 One of the biggest ways to keeping your house cooler, is to use CFL bulbs in place of incandescent bulbs. The old style bulbs put off a huge amount of heat. Also using CFLs will reduce the amount of mercury in the air. This is because CFLs use less energy, fewer coal fired power plants - which put mercury in the air - need to be running.
Using smart power strips, that turn off power to electronics when not in use. HDTVs, stereos, printers are all 'on' when plugged in, even it they are turned off. Monica talked about smart power strips on a previous GF Radio.
Eric is a big advocate of spray foam insulation, and we talk about the use of blown-in insulation using cellulose, which can be put on top of the existing insulation in your attic space.
Using trees to shade your home, or to shade the outdoor air conditioner compressor, is one suggested by Rick.
The house cooling tips were inspired by a post in Mother Earth Living.
How to cut down a tree with a chainsaw is discussed, with our recent chainsaw video. This was quite a large tree to cut down. Again, use a chainsaw with extreme caution, and be very careful. If you are not sure what you are doing, hire a professional.
stumpshot70 is a lumberjack that Eric watches on YouTube.
We talk about digital SLR cameras, aka DSLR cameras. Eric uses a Canon T4i with a 18-135mm lens. Rick is looking at the Canon 70D, which seems to be better at auto focus in the video mode.
Rick's Podcasts Worth Hearing, a curated list of interesting podcasts, can be found here: http://rhkennerly.com/
The article about crabgrass can be read here: https://www.scientificamerican.com/podcast/episode.cfm?id=crabgrass-carries-on-chemical-warfa-13-07-09
photo courtesy MorgueFile