We dropped a tree that was dead last fall, of course we made a video about that click here, and we needed to cut the tree up into firewood for the wood stove at the camp, so I had my phone camera with me while we worked. So out come the chainsaws, safety gear, and camera. It took a while to cut this hardwood cherry up, dead wood can wear out your chain quick.

In this video we use a peavey to move the tree and the logs. Its a great tool to have, makes it much easier to roll stuff and save your back. We talk some about using the peavey here.
The most important thing when cutting firewood is to keep in mind what it is going to be used for. This is for a woodstove, so we measured the wood stove opening and then marked the tree accordingly to make sure each log was just the right length to fit in the stove. Don't want to do all that work and then find out the firewood wont fit, not a good thing.
This tree had been dead a year, so it was good to be split and ready to burn. If you are cutting down a fresh tree, let the firewood dry a year, I say. We used a hyrdraulic wood splitter to break up these big logs, there's a video about that in the links below.
I keep two or three newly sharpened chains with me when cutting down trees or firewood. There's nothing worse than a dull chain, your saw will overheat, and you wear out your saw and yourself. Chains are cheap, buy a few, and sharpen them regularly.
Always keep safety in mind when using a chainsaw, they are dangerous tools. Note that I am wearing a helmet, ear protection, eye protection, chainsaw chaps, and steel toed shows. Links below to sources for these items. Be smart and be safe.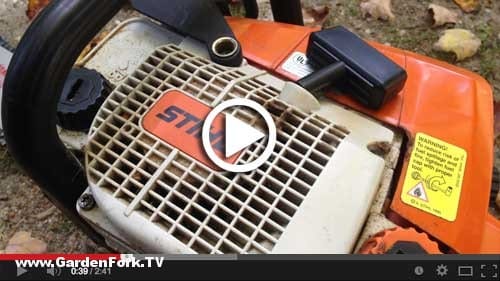 Click Here To Watch All Our Chainsaw Videos

An all in one helmet is the #1 piece of gear you need: