Want to learn how to make moonshine? Here's the book. Its surprisingly simple, as told by Colin Spoelman and David Haskell.
I first heard of this book after reading an excerpt in Edible Brooklyn, and then saw it in the local bookstore, so I had to buy it. The bookcover says it all.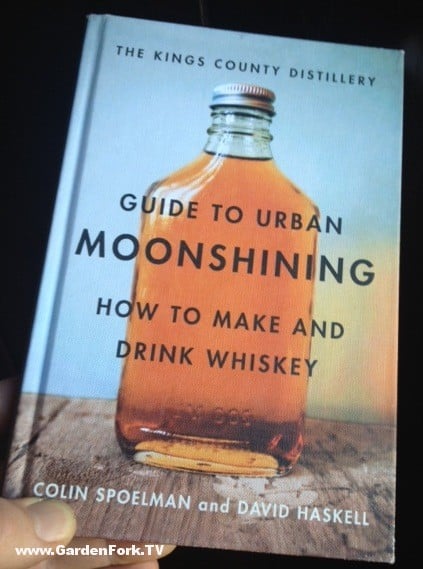 The prologue of the book sets it up for us. The author grew up in eastern Kentucky and tells of visiting the local bootlegger instead of driving to a non-dry county. This is so different than my midwest suburban adolescence.
We get a history of whiskey in America, learning that until the 20th century, the US government relied heavily on the taxes on alcohol, hence the desire to make it yourself. I didn't realize how many distilleries there were in New York in the 1800s. There's a map of downtown Brooklyn showing where legit and illegal stills were.
We are taken through the country and its explained how geography ( The Cumberland Gap ) and rivers affected where and what whiskey was made of. Bunch of history here I knew nothing about. neat.
We then learn just what whiskey is. Complete with a detailed graphic charting the various raw materials, processes, and aging to produce different drinks. Clearly these guys know what they are talking about. A chapter of the book surveys current whiskey distillers, and who really makes whiskey and who just packages whiskey. This I did not know.
How To Make Moonshine
Then we move to the chapter we all want to know about, in their words, How To Make Whiskey.
To make whiskey is straightforward, yet easy to mess up. If you have home brewed beer, you are about ⅓ of the way there. You will, of course, need a still, and be willing to technically break the law. But go forward! There are hobby stills available for purchase.
You make a mash of corn and other grains if you wish, ferment it, add it to your still. Fire up the still, and monitor the condensate, and you have it. Done.
Now, a lot can go wrong, but lightbulbs are going off in my head.
After we are walked through how to make whiskey, we then learn what we'll need to do to start a distillery. Not bad for the price of one book. I'm not sure if Colin and David had me in mind when they wrote the book, but this is exactly all the stuff I wanted to know about.
I don't think i'll go out and buy a hobby still, but this would be a cool thing to do with a small group at a hacker space, or a distillery meetup.


// ]]>
Click Here to Buy On ebay