I'm on a quest to get rid of stuff I don't use, so I have this suggestion when you are decluttering your home:
Sell stuff on ebay.
I've had 4 fishing reels in a box at the bottom of the basement stairs for how knows how long, thinking they are worth something. Today I put them out on the sidewalk. Then I went out and took them back in. Then I went on ebay.
A quick search on ebay shows
that some fishing reels are worth money, some are not. I don't think the ones I have are worth much, but if you add it up, sell a few reels, sell some of that other stuff in your basement, and you might have a few bucks in your paypal account. nice. Its surprising how fast a few dollars can add up, and you could buy something you can really use on ebay then. I need some more video lights.
We sold what I thought was a real ugly lamp for a couple of hundred bucks. Read about it here.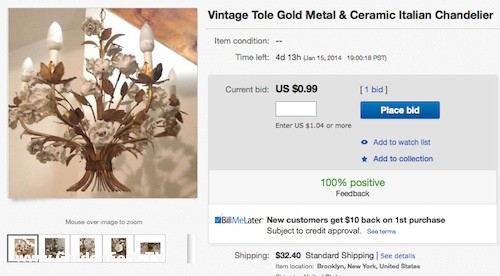 The declutter is also a mental thing for me, its like I have this virtual mental list of stuff to do, and a lot of it jams up your brain. So part of letting go of stuff also helps your head, I think. Plus one less box to remind you of at the bottom of the stairs.
So just another nudge to you all that want to declutter your home, that stuff in that box can go to someone who can use it, and you might make some nice coin.
Full Disclosure here, we've made a video with ebay here, and have their affiliate ads on the site, but I do really sell stuff on their site when I want to get rid of stuff. Some of it sells, some does not.