Using our easy brick pizza oven plan, learn these tips for building your wood fired pizza oven and how to cook pizza in it. After using our DIY pizza oven several times, I wanted to share with you all some things I have learned about firing the brick oven and cooking pizza in it. If you haven't watched our how to build a portable brick pizza oven, check it out here.
Planning helps a lot to have a successful brick oven pizza night. I suggest you start assembling the oven 4 hours ahead of time, and starting the fire 3 hours ahead.
Build the pizza oven on a strong base. Don't use flimsy sawhorses, they will break! Again, learn from my mistakes here...
Start your pizza dough at least 24 hours ahead of time, if possible. You can check out our pizza dough recipe videos here. If this is a spontaneous pizza night, go ahead and use the Artisan Bread in 5 Minutes a Day dough recipe. It all tastes good!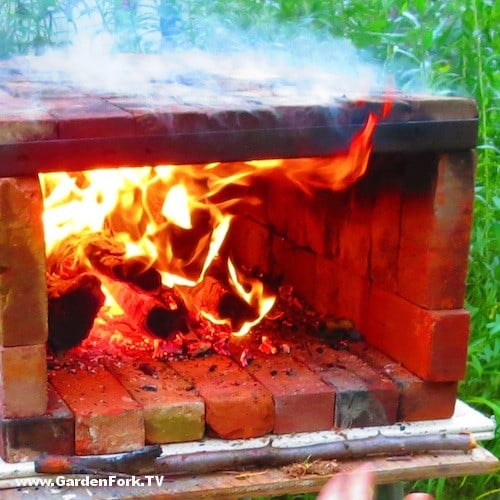 Don't burn green wood. Learn from my mistakes! I grabbed a bunch of kindling that I did not realize was green, and had to rebuild the fire after it didn't start well. Oak works best, I think.
Rake most of the coals to the back of the oven, and then throw another large log onto the coals, you need to keep the fire going for multiple pizzas.
Our homemade pizza peel works great with the brick pizza oven, watch the pizza peel video here. Use cornmeal on the pizza peel, it helps the pizza slide off the peel onto the oven floor.
Rotate the pizza halfway through the baking process, it helps to even out the cooking.
Don't pile on the ingredients, less is better in this case. Vegetables should be sliced thin. Vegetables such as broccoli are best blanched first, so they cook along with the pizza. You can also add things after the pizza comes out of the oven.
Here is the how to build the brick pizza oven video: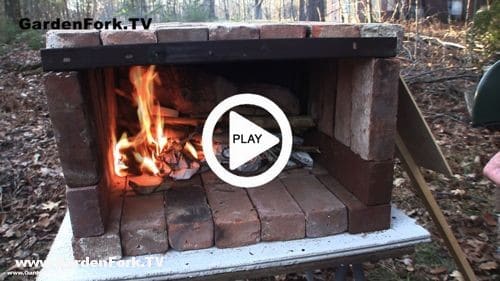 Click here to see some of the pizza ovens people have built after watching our how-to vids, have you built one? Please send us pictures: admin@gardenfork.tv