Homemade Dog Treat Recipe! These dog treats are easy to make, and our dogs love these dog biscuits. I'm wondering if there's a difference between dog treats and dog biscuits, maybe dog treats is a more general term and dog biscuits refer to baked dog treats like these sweet potato dog treats we made for the Labradors.
While working on this recipe, I found the amount of milk you add varies depending on how large and how moist the sweet potato is. You want the dough to be kinda dry, like pie crust dough, not wet. I've reduced the amount of milk in the dog treat recipe here, after mixing in the dry ingredients, you can add more milk or water if the dough is too dry to work with a rolling pin.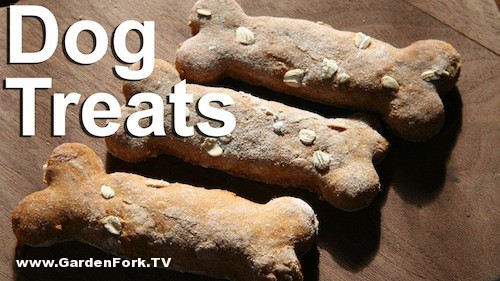 You also might consider adding in brewer's yeast or powdered garlic to these dog treats, if you've found those ingredients help your dog's health, or flax seed perhaps? What do you think?
I add flax seed oil to our Labrador's breakfast to supplement their omega 3,6,9 intake. Keep flax seed oil in the fridge, btw. If you want to buy flax seed oil, its usually kept in the fridge case of the health food store.
If you don't  have a dog biscuit cookie cutter, you can use a glass or tuna can to cut out round dog treats, but its fun for kids to make dog bone style treats.
Here are some dog treat cookbooks
you might want to check out, and let us know your dog treat recipes below:

Sweet Potato Dog Treat Recipe : GardenFork.TV
Ingredients
•    1 Medium sweet potato
•    2 cups whole wheat flour
•    1 cup whole oats
•    2 eggs
•    ¾ cup milk
Cooking Directions
1. preheat oven to 350F
2. poke 4-5 fork holes into sweet potato, microwave for about 8 minutes, or use the \"bake potato\" setting on your microwave. let the potato cool before handling it!
3. mix the two eggs together in a small bowl, set aside
4. remove the sweet potato from the skin and mash with a fork
5. add the dry ingredients together with the mashed sweet potato
6. add in then eggs and milk. you want a thick dough that isn\'t sticky, you may have to adjust the amount of milk.
7. flour a board and roll out the dough, you don\'t want a sticky dough
8. roll out to ½\" or ¼\"
9. cut out dog treats with cookie cutters or a glass or a tuna can or just use a knife to cut out whatever shape you like.
10. grease a sheet pan with cooking spray, butter etc. put the dog treats on the pan
11. pick up the leftover rolled out dough and form it into a ball again, and roll it out into a sheet, and cut more dog biscuits
12. bake for 30 minutes or until slightly browned on top.