Here's our easy birdhouse plans video, this is based on a few designs, and uses common pine lumber. This birdhouse is a good children's woodworking project, as you can use hand tools to build it.
I'm big on using scrap wood to build birdhouses, and this house can be made with scrap or recycled lumber or pallets. The design can be scaled up for larger birds and be adapted for many birds: Bluebirds, Chickadees, Woodpeckers, Wrens, Nuthatches. I call it the Bauhaus birdhouse, as its a very simple and clean design that works well for a variety of birds.
One of the most important things when building a bird house is to make sure the interior wall below the entrance hole is very rough or has screening on it. The young birds will need to climb up this inner wall to get out of the nest, and if the inner wall is too smooth, like most finished lumber, they can't get out of the nest.
You can build a birdhouse like we do here, or take this birdhouse design and make your own changes to the plans. These will last longer if you paint them. The wood is best primed first, then with a few topcoats of an outdoor latex paint. Do Not Paint The Interior! I don't think the color should be bright, but I'm not an ornithologist...
For bluebirds we use an elongated hole in the basic birdhouse plan but you can also drill or cut a regular circular entrance. Go buy a set of good quality wood spade bits and pick the diameter that matches the kind of birds you are hoping to attract. A coping saw is inexpensive if you plan on doing more woodworking projects, with which you can cut elongated or circular entrances.
We drill several holes in the bottom of the birdhouse, and have a vent at the top. This is one reason we cut one of the sides shorter. It allows the side to hinge for cleaning, and also serves as a top vent for the house. You don't want the young birds to overheat in their house.
Its important that birdhouses be varmint proof. If you are going to put them on a stake or pole, use one of the varmint proofing methods to keep them from crawling up the post and eating the young birds.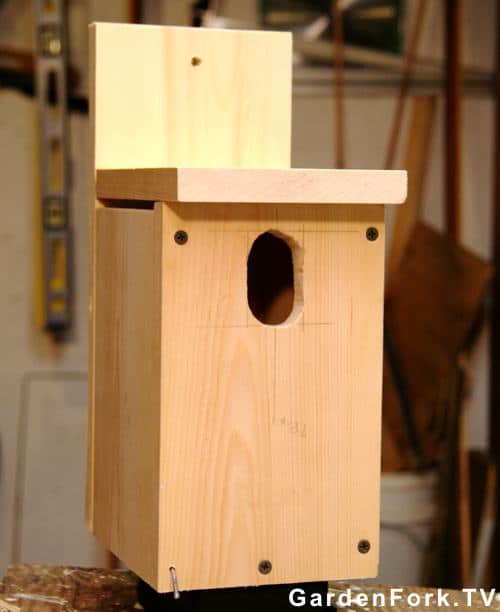 Watch more of our birdhouse videos here: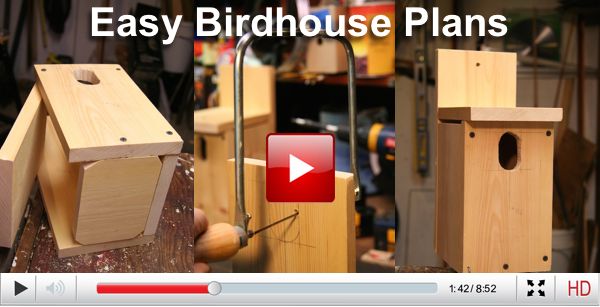 here is the link to the North Dakota Fish and Game birdhouse plans that we based our birdhouses on.