Here's a easy container patio garden in front of one of my favorite food places in Brooklyn, Brancaccio's Food Shop. Its square foot gardening on steroids, and it works really well. Take a few oak wine barrels and a few plastic plant containers, and stuff them full of plants, and your done.
The container garden looks great, basil, tomatoes, mustards, parsley, eggplant, chives, chard all mixed together.
Joe's container garden does not have a drip irrigation system, so it needs to be watered almost every day, but its in a perfect spot in front of his store, with plenty of sun, and its right on the sidewalk, an added bonus to everyone who walks by. ( here is a GF Drip Irrigation Video )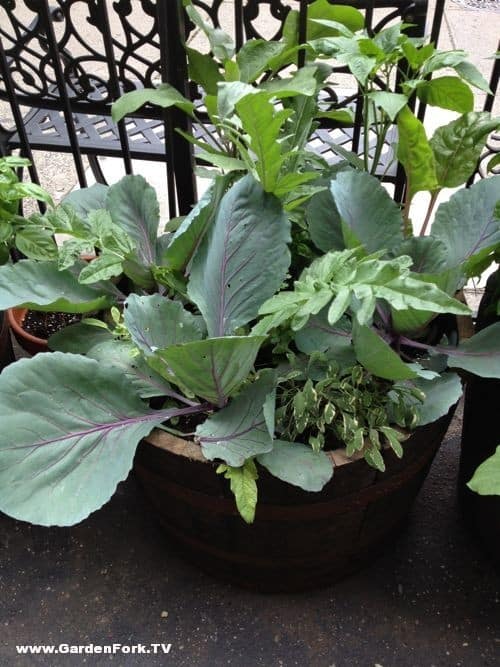 You can use all sorts of containers for a patio garden, the mix of wood barrels and plastic plant pots here shows that mantra: 'use what you got or can get'
Regular potting soil, the kind you buy in bags works fine for container gardens, just make sure whatever pot you are using has drain holes in the bottom.
As we ate our amazing meatball sandwiches, ( read about this great meatball sandwich here ) I realize Joe had fig tree growing out of one of the containers in his patio garden. Neat.
Joe appears in this easy pasta recipe GardenFork video, pasta with poppy seeds.