Bought too many cranberries? Here's an easy cranberry recipe to use up those extras you bought. This jam is a simple cranberry recipe to make and you can store the jam for up to a year in mason jars by canning them.
Easy Cranberry Recipe The GardenFork Way
These berries are one of those superfoods that I think we should be eating year round. And by making jam and canning it, you can make a big batch of this, and have it for the rest of the year. Watch our easy canning instructions video here. How cool is it to show up at a friends dinner party with a jar of homemade jam?
We often run across cranberries on sale at the grocery store, so buy 4 bags or so, some oranges and ginger, and you are good to go.
These berries have a long history with the Americas, they grow in the U.S. and Canada. Wikipedia has a long entry on cranberries, and I liked this early dinner reference to turkey and cranberries:
In the 1672 book "New England Rarities Discovered" author John Josselyn described cranberries, writing:

"Sauce for the Pilgrims, cranberry or bearberry, is a small trayling plant that grows in salt marshes that are overgrown with moss. The berries are of a pale yellow color, afterwards red, as big as a cherry, some perfectly round, others oval, all of them hollow with sower (sic) astringent taste; they are ripe in August and September. They are excellent against the Scurvy. They are also good to allay the fervor of hoof diseases. The Indians and English use them mush, boyling (sic) them with sugar for sauce to eat with their meat; and it is a delicate sauce, especially with roasted mutton. Some make tarts with them as with gooseberries."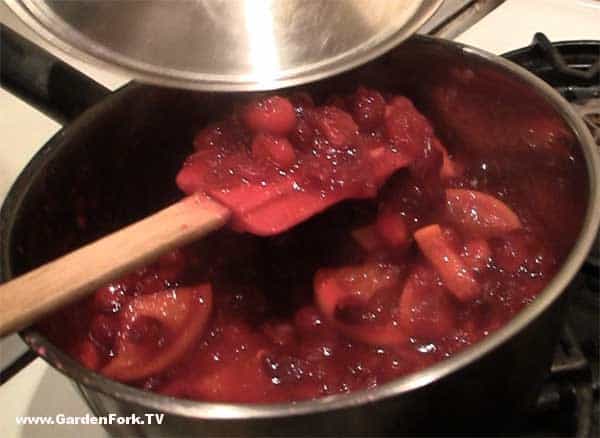 I find many sauces made with cranberries to be too sweet, so for this jam, I use only ½ cup of sugar, but you might want to increase that a bit. Taste the jam and add sugar if you want. Be careful, as the jam is pretty hot in the pan, let it cool on a spoon. Our Easy Cranberry Recipe is below:
Easy Cranberry Jam
Ingredients
• 1 lb Fresh Cranberries
• ½ cup sugar
• 1 cup water
• 1 navel orange
• 2 inch piece ginger
Cooking Directions
1. Wash the orange well and cut into quarters. Then slice slivers of the orange, including the rind. How thick to make the slivers is up to you.
2. Peel the ginger and cut into rounds, sticks, or diced. This depends on how you like your ginger...
3. Rinse the cranberries and put into a medium saucepan with a thick bottom, or use a heat diffuser under the pan
4. Add to the pan the water, orange slices, ginger, sugar.
5. Bring to a simmer, you will start to hear the cranberries pop, kinda like quiet popcorn.
6. Cover the lid, turn down the heat to low, and cook for 10-20 minutes, stirring every few minutes.
7. When most of the berries have burst and started to break down, turn off the heat and let cool.
8. Taste for sweetness, and add sugar if you want.
9. Keep in the fridge in a covered container or jars for about 2 weeks, or use hot water bath canning to preserve. I processed the jam for 10 minutes with ¼\\\" headspace.
Have an easy cranberry recipe? Let us know below, be great to hear from you: