Came across this industrial style bathroom accessory recently and really liked its simple design. And it's wicked simple to make. Metal plumbing pipe lends itself well to this style of home decor.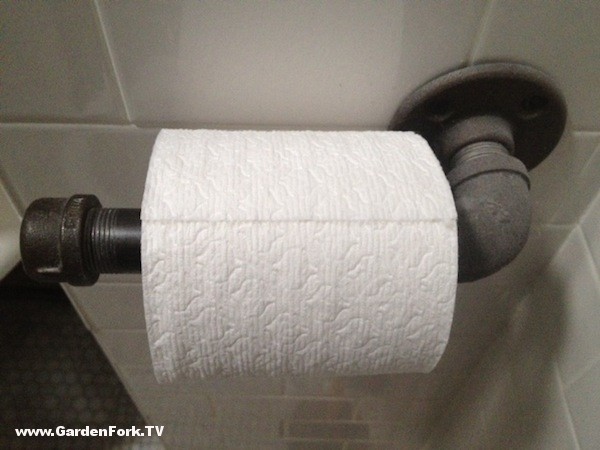 Industrial Style Bathroom Accessory How To
This toilet paper holder is made from ¾" plumbing pipe, which is available from plumbing supply houses or some large home improvement stores. To build this industrial toilet paper holder, you will need:
A ¾" flange mount to allow the holder to be attached to the wall
A ¾" 90 degree elbow
A ¾" diameter, 2" long nipple ( aka, a short piece of pipe )
A ¾" diameter, 6" long pipe
A ¾" cap
Put the metal pipe together as shown in the photo, it helps to have strong hands, or someone nearby that has strong hands. I would avoid using wrenches or pliers to tighten up the pipes. If you must use a pliers or wrench, wrap the pipe in rag to reduce the amount of marks the pliers will make on the pipe. Remember this is industrial style, but wrench marks aren't great, I think, but its your toilet paper holder.
The flange has 4 pre-drilled holes for mounting the holder on the wall, I'd suggest dark screws, such as drywall screws, to hold it on the wall. Be sure to attach it securely, ideally screwing it into a stud. Use toggle bolts or similar anchors if you can't drill into a stud. Don't use cheap plastic mollies, the holder will fall off the wall.
If you are drilling through tile like the holder shown in the photo, use a masonry bit to drill through the tile. We have a post about how to hang TVs and such on brick and cement, click here.
I'm thinking you could also call this a steampunk style bathroom accessory, but I guess it depends on who is defining industrial style versus steampunk style. I think steampunk has more copper pipe than iron pipe. Check out this industrial style pinterest board.
What do you think of this style, how could we improve this DIY toilet paper holder?