We just finished the maple syrup season, so its time for our easy maple baked beans recipe. You can use canned beans for this or cook some beans in your pressure cooker. There aren't a ton of ingredients to this, but the few ingredients combine to make this perfect for a BBQ side dish.
A viewer suggested the other day that our homemade maple syrup evaporator could be used as a DIY meat smoker, and that provided the easy connection to make baked beans with maple syrup.
I've been to plenty of BBQ places across the U.S.A., and some of the baked beans I've been served are not great. I want them to be slightly sweet with some baked tomato flavor, and not too soupy. I've seen and eaten a wide range of them, and my easy maple baked beans recipe reflects what I like in a baked bean recipe.
A good potluck dinner recipe, these beans should be served on a paper plate in your friend's backyard on one of those red stained wood picnic tables. Or at least one made out of pallets... ( more DIY pallet videos coming )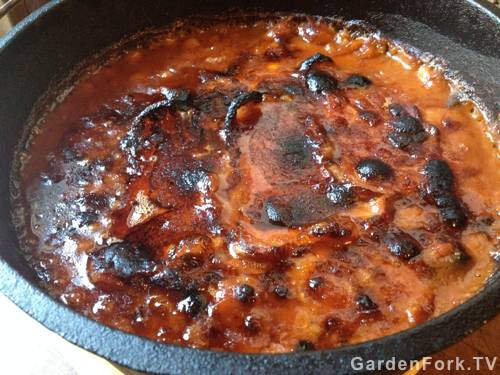 I baked these beans in a seasoned cast iron dutch oven. Learn how to season cast iron here. I think its the perfect vessel for this dish. Its got a nice carrying handle, and the thick walls keep the heat even. And drop that puppy on a potluck table and it looks so much better than those plastic food storage containers, right?
A lot of recipes call for molasses or brown sugar, or both. I am not big on super sweet beans, and the maple syrup works well, I think. ½ cup of syrup does well for me. I would not suggest adding any more, but again, its a personal thing. The canned beans are cannelini beans, but any white bean works here - you could even use lima beans - which has now got me thinking about a lima bean baked dish.
The small can of tomato paste stands in for ketchup. I LOVE ketchup, especially on meatloaf, but these beans are better without it.
Here are a variety of cast iron dutch ovens to check out:
Easy Maple Baked Beans Recipe Video
Author:
Prep time:
Cook time:
Total time:
A perfect segue from the Maple Syrup season to the BBQ season, baked beans work in winter and summer, perfect potluck dinner recipe or just because you love baked beans like I do.
Ingredients
2 29 oz cans of white beans - northern, cannelini, small whites.
1 6 oz can tomato paste
1 medium onion chopped medium
1 tablespoon Worcestershire Sauce
2 tablespoons brown or good deli mustard
½ cup real maple syrup
5 strips of bacon, thick cut is preferred
Instructions
Drain the liquid from one of the cans of cooked beans.
Roughly chop the onion.
Cut or Slice 3 of the bacon strips into ½" pieces. Cook in a fry pan while preparing the dutch oven.
Put about 2 tablespoons of the bacon fat or vegetable oil in the dutch oven on the stovetop.
Add in the onion and cook, you want the onion to start to brown and be kinda clear.
Put in the two cans of beans, reserving the drained liquid from one of the cans.
Add the tomato paste, Worchestershire, mustard, maple syrup.
Add in the cooked bacon and mix together the ingredients.
At this point, see how much liquid is in the pot, the liquid should not be above the beans. The top layer of beans should be just above the liquid.
Add more bean liquid if the liquid level is too low.
Lay the remaining uncooked bacon across the top of the bean mix.
Set the oven to 350F and cook covered for 30-40 minutes. Check at 30 minutes, if its not bubbling, cook a bit longer.
Take the lid off the beans, turn on the oven broiler, and put the beans about 6" below the broiler for 10 minutes, when the top starts to brown, its done.