When you buy too many of those cherry tomatoes at the big store, make this roasted cherry tomatoes and polenta recipe. This recipe takes tired, older cherry tomatoes and concentrates their flavor, drop them on top of a quick pot of polenta, and you have dinner, or part of a big dinner.
I had bought a large package of cherry tomatoes at the warehouse style food store, the place where you eyes get big and you want to buy lots of stuff because you think its all a good deal, except that you have to cook it all. I have found that buying dried fruits and nuts at the warehouse store is a good deal. I keep them in zipper storage bags and put the nuts in the fridge, they last longer that way.
The tomatoes sat on the counter for a week - don't keep them in the fridge - and started to get soft and a bit wrinkled. I cut them in half, put them in an oiled pan, and sprinkled the magic ingredients over them, olive oil and salt. In the oven for 20-30 min, and out come something completely different that what went in there.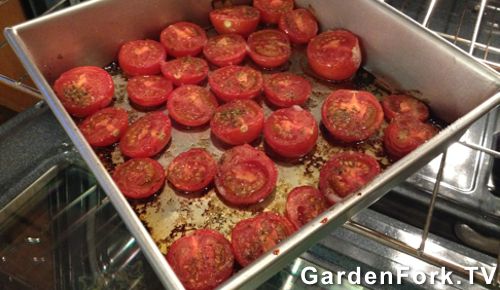 The polenta is based on our quick stovetop polenta recipe, using the secret ingredient to cook the polenta faster. Add in some butter, and its a brilliant dish.
You can top the cherry tomatoes with dried oregano or a mix of italian seasonings, it makes them that much better with little effort. I like to buy the larger container of italian seasoning, it goes on top of lots of foods in our house. Don't use the best olive oil you have for this, as it is heated, so any subtle flavors are out the window. Use fine salt, not the course kind, as some salt might remain, and not everyone likes to bite down on chunks of salt, ok?
Roasted Cherry Tomatoes and Polenta Recipe Video
Author:
Prep time:
Cook time:
Total time:
Smart use of cherry tomatoes that are getting a bit old on the countertop. This transforms them into a new delicious thing.
Ingredients
1 package of cherry tomatoes
Olive Oil
Fine Salt
Dried Italian Seasoning Herb mix or Oregano
1 batch of stovetop or microwave polenta, link is above
Hard cheese like Romano or Parmesan
Instructions
Slice all the cherry tomatoes in half.
Place them in a lined and/or oiled sheet pan, ideally they will fill up tray.
Drizzle with olive oil and sprinkle salt and seasonings on tomatoes.
Roast for 20-40 minutes at 425F. Keep an eye on them.
Cook a batch of the stove top or microwave polenta.
When the tomatoes are oozing liquid and starting to collapse, they are done.
Spoon polenta into serving bowls and top with tomatoes.
You can drizzle more olive oil over the dish.
Grate cheese over top.