We follow up on Leda Meredith's fermentation how to book, and why Rick buys his how-to books in hardcover and not an ebook. Rick likes Leda's book finding it easy to follow. Links are below.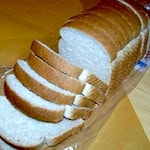 We read some mail based on our podcast about dog allergies, its seems a raw food diet helps some dogs with their allergies. A good quality dog food does contain the right stuff, Rick and Eric believes. And you can buy frozen raw food in some pet stores, it looks like frozen bologna.
Eric tells of his two weeks of gluten free and how he realized how much he loves bread and how it makes him sleepy during the day. We reference Mark Bittman and his books, Food Matters and VB6.
Rick tells about how he has lost weight by walking every day and avoiding bread. He uses two fitness apps, My Fitness Pal and Moves.