Learn how to make a dog tug toy in this DIY GardenFork Video. Our dogs tear through store bought toys, maybe the toys are made for smaller dogs, not sure. So I bought 100' of rope and now we make our own dog rope toys. This video is one of several we are working on for Dog Toy series. Sign up for our newsletter to find out when we post new vids.
One precaution here: In this video we are using a polyester rope, and some dog have issues with this kind of rope, it can get stuck in their stomach. Our pups do not have this problem. I suggest you use cotton rope, which you can get at a camping supply store or a good hardware store.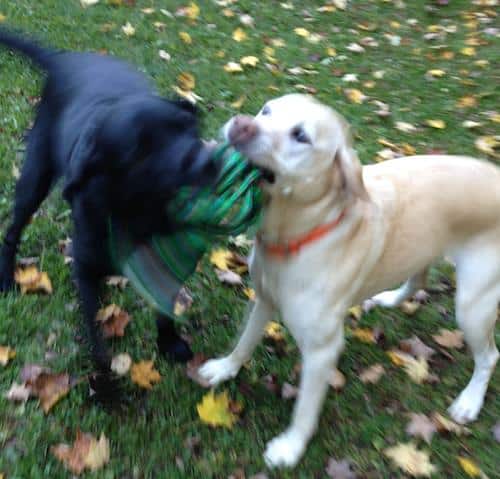 This tug toy is not perfect, the dogs manage to tear it apart in a week or two, but then I just make up another one. And they love it when they see me with the large hank of rope making them a new toy. Moose, the black lab, loves to get hold of the whole hunk of rope, which makes a mess of it.
Charlie Pup and Moose are the main users of the tug toy, Henry will want to play with Moose, and then Charlie Pup jumps in. Not sure if this is a dominance thing or just Charlie Pup being jealous, or maybe its just dogs being dogs. But it is a blast to watch, below is a video of the dogs playing with the tug toy. You can watch more Lab videos on their YouTube Channel here. As you can see, it works very well, and it wears them out, which is a big goal of mine. Sleeping dogs are a good thing at the end of day, and this works well for that.
I can barely hold onto the rope when I play with them, its amazing how much pull strength they have. Their jaw clamps onto that rope and then they pull back with their hind legs. I let go the rope, lest I wreck my back.
Do you make your own dog toys? Let us know below: