I mentioned in a recent GF Viewer Mail Video that I had had surgery on my foot, and while some may not be interested in that, I thought some might, and some have already asked, so here's what's up.
I don't know the exact medical term, but the joint of the large toe is arthritic and has a large bone spur on top of it. This makes walking, and home improvement work, very painful. I have had this condition for years, but it finally got to the point that I didn't want to go on walks with my wife and the pups, so it was time to get the surgery done.
I should have taken a picture of the x-ray of my foot, but here's one that shows a normal foot with my notes: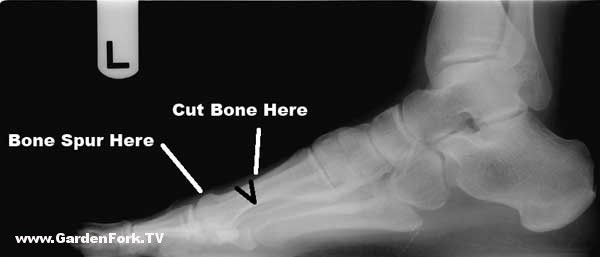 The surgeon cut back the bone spur and then cut the bone that connects to the to joint to change the angle of the joint to give the joint more flexibility. He then screwed the bone back together.
The surgery experience was fine, a very nice outpatient surgical facility with super nice people. I was able to walk out using a cane and a friend drove us home.
The post operative care you give yourself is key to any recovery, I think. And I followed the directions I was given. Its good they wrote them all down. Ice packs are key here, they reduce the swelling and that promotes faster healing. Keeping the foot elevated is important as well, keeps blood from pooling in your foot.
I'm good at doing what I'm told, so I've been on the couch more than I want to be, foot up on 3 pillows, trying to work on the laptop. The pain has not been much of an issue, except in the middle of the night. I think the pain being worse at night is more a function of your mind than biology. Its dark, quiet, and your mind doesn't have much else to focus on. I've found that when the pain hits, I make myself relax the muscles in my leg and foot that naturally want to tighten, and do my best at what might be best called meditative focused breathing. And then I put on another ice pack.
What is the 'AG' on my foot? That's the surgeon marking the foot so we both agree this is the foot we're going to operate on. Blood pools in the toes from the cutting the bone, this will clear up soon.
Next time I go to the surgeon I'll try to get a photo of the x-ray showing the screw in my foot. And I'll post a few more updates on progress here.
Foot X-ray courtesy of Clintjcl 20090312 - Clint - foot x-ray - left ("good" foot) Creative Commons Attribution Non-Commercial Share-Alike I added text to image.