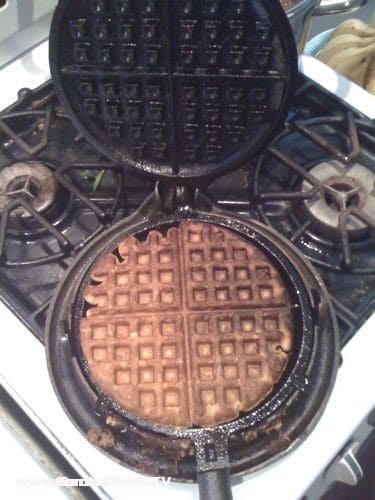 Its the day after Christmas and I decide that I want to make Waffles. No one in my house, besides me and the Labradors, likes waffles, but I do, so I make them. This time I modified my waffle recipe - watch the how to make waffles video here - with cornmeal. Neat.
I use a cast iron waffle iron I bought online from Camping R US http://www.a1camping.com/, but you can use an electric one. I like the cast iron waffle iron because it is easy to clean, and i don't have to wrangle an electric cord.
The Cornmeal Yogurt pancakes came out great. Here is the recipe I modified from the original waffle recipe we posted here.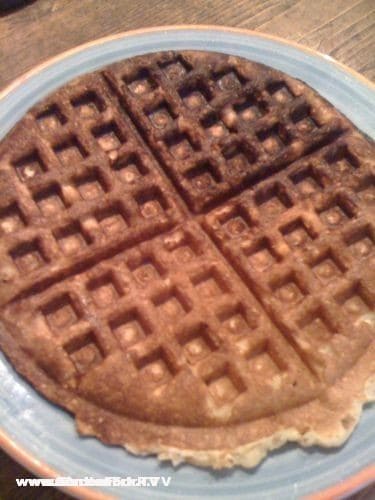 Eric's Waffle Recipe
1 ½ cups buttermilk [to substitute milk here, put 1 ½ tablespoons of vinegar in 1 ½ cups of milk, let stand for 5 minutes, then add to recipe ]
or
1 cup of milk + ½ cup plain yogurt
1 cup all purpose flour
½ cup cornmeal - i like the coarse ground, but use whatever you like.
2 teaspoons baking powder
½ teaspoon salt
¼ cup canola oil
3 eggs, yolks separated from whites.
Preheat your waffle griddle.
Combine the egg yolks with the buttermilk. add dry ingredients and just mix till mixed, don't over mix.
Then add oil.
Using a whisk or electric mixer, beat the egg whites until they form peaks,
Then turn the whites into the batter. Do this gently, you do not want to overmix this.
Spray the waffle griddle with vegetable oil or non-stick cooking spray. Pour about ¾ cup of batter onto the griddle, spread it around a bit.
Close the griddle and sit tight. after 3-4 minutes, gently lift the lid and check the bottom for done-ness, if its nicely browned, flip the waffle griddle to cook the other side. Cook for a few minutes more until nicely browned.
Serve with Maple Syrup and butter, you can also dust with confectioners sugar.
©2008 eric rochow